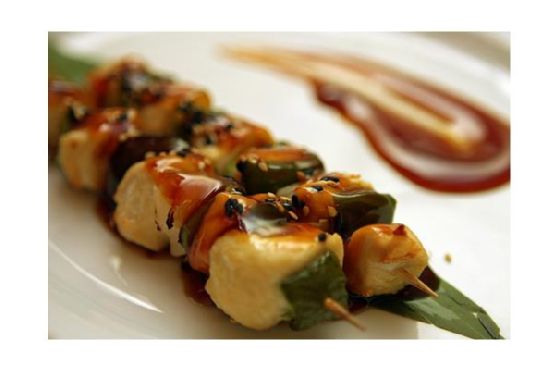 Yakitori Glaze might be just the Japanese recipe you are searching for. For $1.94 per serving, this recipe covers 4% of your daily requirements of vitamins and minerals. One serving contains 400 calories, 7g of protein, and 0g of fat. From preparation to the plate, this recipe takes roughly 45 minutes. It is a good option if you're following a gluten free, fodmap friendly, and vegan diet. 1 person has made this recipe and would make it again. If you have ginger, cup japanese soy sauce, tamari, and a few other ingredients on hand, you can make it. All things considered, we decided this recipe deserves a spoonacular score of 12%. This score is rather bad. Try Yakitori, Yakitori, and Eggplant Yakitori for similar recipes.
Yakitori Glaze Instructions
Combine all ingredients in a small saucepan and bring to a boil. Cook until reduced by a quarter. Cool. Store in the refrigerator.
Makes about 1 3/4 cups.
To use: Dip thinly sliced meat, chicken cubes, shrimp or fish filets in the glaze, then grill. May also be brushed on food as it cooks.
Credit: Foodista.com – The Cooking Encyclopedia Everyone Can Edit