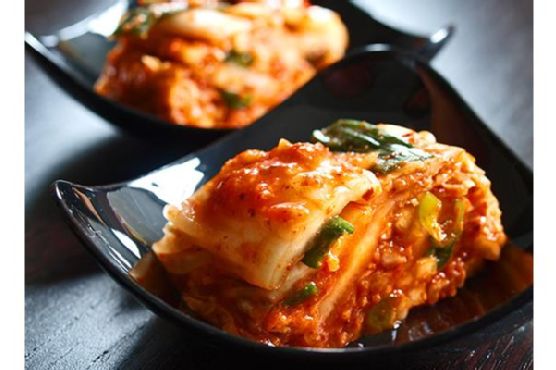 If you have approximately approximately 45 minutes to spend in the kitchen, Winter Kimchi might be an outstanding gluten free, dairy free, and pescatarian recipe to try. This recipe makes 1 servings with 372 calories, 23g of protein, and 7g of fat each. For $5.87 per serving, this recipe covers 48% of your daily requirements of vitamins and minerals. Winter will be even more special with this recipe. It works well as a Korean side dish. It is brought to you by Foodista. 3 people were impressed by this recipe. A mixture of fish sauce, brine solution, sugar, and a handful of other ingredients are all it takes to make this recipe so delicious. Taking all factors into account, this recipe earns a spoonacular score of 92%, which is amazing. Try Red Curry Mussels with Kimchi Puree from 'The Kimchi Cookbook, Stir fried Kimchi and Rice (Kimchi Bokkeumbap), and Buta Kimchi (pork And Kimchi Stir Fry) for similar recipes.
Winter Kimchi Instructions
Soak the quartered cabbage in the brine solution for 4 hours, weighing the cabbage down with a heavy plate. Remove and drain. Place garlic cloves, rice, fermented shrimp, fish sauce, sugar, chilly paste and chilly flakes in a food processor and zap to a smooth paste. Stir in spring onions. Stuff the cabbage with the paste, making sure to stuff in between the individual leaves and coating every inch of it. Place kimchi into an airtight container and leave at room temperature for a day before leaving it to ferment further in the fridge for at least another week before consuming. I left mine for about 3 weeks.
Credit: Foodista.com – The Cooking Encyclopedia Everyone Can Edit