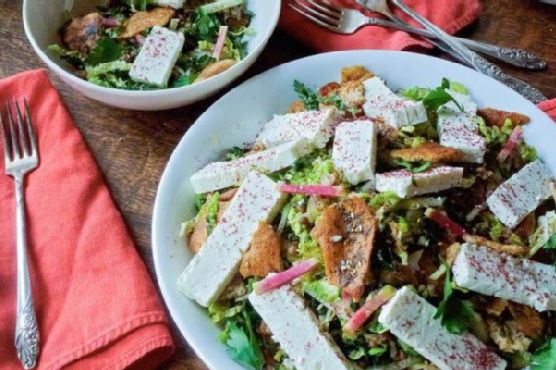 The recipe Winter Fattoush Salad could satisfy your middl eastern craving in about 45 minutes. This recipe makes 6 servings with 365 calories, 19g of protein, and 9g of fat each. For $1.45 per serving, this recipe covers 34% of your daily requirements of vitamins and minerals. 1 person were impressed by this recipe. Only a few people really liked this main course. It can be enjoyed any time, but it is especially good for Winter. A mixture of olive oil, salt and pepper, pita breads, and a handful of other ingredients are all it takes to make this recipe so tasty. To use up the salt and pepper you could follow this main course with the Dr. Pepper Cake with Flour Cooked Frosting as a dessert. It is a good option if you're following a vegetarian diet. All things considered, we decided this recipe deserves a spoonacular score of 93%. This score is super. Similar recipes include Winter Fattoush Salad, Fattoush Salad, and Fattoush Salad.
Winter Fattoush Salad Instructions
Toast the pita: Preheat the oven to 350F. Whisk the oil, zaatar and salt in a small bowl. Lay the pita bread on a baking sheet and brush both sides with the oil. Bake until crisp, 5 to 7 minutes. When cool enough to handle, tear pitas into bite-size pieces. There should be about 2 cups.
Make the lentils: Saute the onions and oil in a small skillet until onions soften and begin to brown. Add the lentils and stir to blend. Stir in the garlic and parsley and remove from heat. Season with salt and pepper.
Cut away the thickest part of the kale and cabbage ribs and discard, then roll the leaves into bundles and shred. Trim the cucumber ends, then cut lengthwise into -inch slices. Stack the slices and cut crosswise into shreds. Repeat with the radishes. Tear whole leaves from parsley and/or mint.
Make the dressing: Whisk the dressing ingredients in a bowl until fully combined. You can also use a handheld blender.
Compose the salad: Toss the salad ingredients in a large bowl. Add the lentils and pita crisps. Drizzle with the dressing and toss again. Mound the salad on a serving platter. Top with feta cheese and sprinkle with sumac.
Credit: Foodista.com – The Cooking Encyclopedia Everyone Can Edit