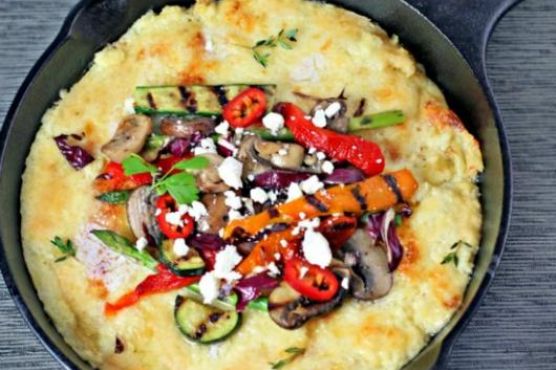 White Cheddar Grits with Veggies is a Southern recipe that serves 8. For $4.04 per serving, this recipe covers 25% of your daily requirements of vitamins and minerals. Watching your figure? This gluten free and lacto ovo vegetarian recipe has 331 calories, 18g of protein, and 19g of fat per serving. This recipe from Foodista has 1 fans. A mixture of chicken broth, garlic powder, salt, and a handful of other ingredients are all it takes to make this recipe so yummy. Not a lot of people really liked this breakfast. From preparation to the plate, this recipe takes around 1 hour and 25 minutes. Overall, this recipe earns a pretty good spoonacular score of 63%. Similar recipes include Ham and White Cheddar Grits, Ham and White Cheddar Grits, and Creamy White Cheddar Grits with Ham.
White Cheddar Grits with Veggies Instructions
Preheat oven to 350F.
In a 3-quart pan, bring broth and minced garlic to a boil over high heat. Stirring, slowly add the grits. Reduce heat to simmer and stir frequently for 5 minutes.
Remove from heat and stir in 1 cup cheddar cheese until melted.
In a small bowl, combine the eggs and milk. Using a whisk, slowly add the egg mixture to the grits. Beat until thoroughly blended. Pour into a buttered 2-quart baking dish and sprinkle evenly with remaining cheese.
Bake uncovered in the oven until the top is golden brown, about 45-50 minutes. In the meantime, prepare the vegetables to roast by cutting the mushrooms and baby zucchini in half, slicing the zucchini into 1 inch rounds, cutting the bell pepper into 1 inch squares, trimming the asparagus, quartering the red onions, and slicing the radicchio.
Lightly oil a baking sheet or coat with nonstick spray. Place the cremini mushrooms, zucchini, bell peppers, asparagus, red onion and radicchio in a large bowl. Drizzle with the olive oil, then season with the rosemary, garlic powder, salt, and pepper; gently toss to combine.
Lay the vegetables out on the prepared pan in an even layer.
After the grits are done, remove them from the oven and cover with foil to keep warm while you roast the vegetables.
Turn the oven up to 425F. When it reaches temperature, roast the vegetables in the oven until they are tender, about 15 minutes, tossing them once during that time.
To assemble, place the roasted vegetables down the center of the grits and sprinkle with sliced red cayenne pepper (if desired) and feta cheese. Serve immediately.
Credit: Foodista.com – The Cooking Encyclopedia Everyone Can Edit