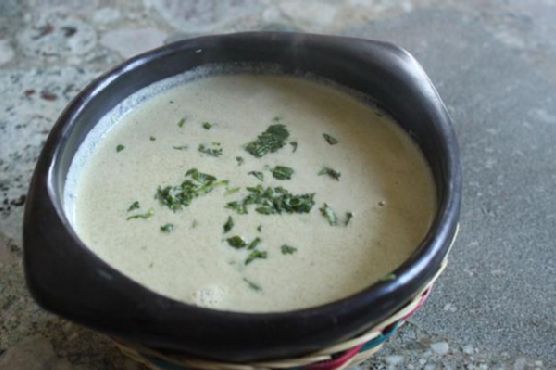 Warm Cucumber Soup (Sopa De Pepinos) might be just the South American recipe you are searching for. This recipe makes 6 servings with 512 calories, 7g of protein, and 37g of fat each. For $1.52 per serving, this recipe covers 10% of your daily requirements of vitamins and minerals. It works well as a soup. It can be enjoyed any time, but it is especially good for Autumn. Only a few people made this recipe, and 1 would say it hit the spot. From preparation to the plate, this recipe takes approximately 45 minutes. If you have milk, sauce, wine, and a few other ingredients on hand, you can make it. It is a good option if you're following a gluten free and vegetarian diet. All things considered, we decided this recipe deserves a spoonacular score of 25%. This score is rather bad. Try Warm Cucumber Soup with Scallop and Sole Mousselines, Garlic Soup (Sopa de Ajo), and Garlic Soup (sopa De Ajo) From Spain for similar recipes.
Warm Cucumber Soup (Sopa De Pepinos) Instructions
White Sauce:
So first things first we need to get this white sauce done before the actual soup. Whisk the cornstarch and milk in a small sauce pot before heating it up. Then add in the rest of ingredients the stock, butter, and seasonings. Bring to a boil, stir, and let it thicken up. Turn heat off and set aside.
Soup:
In a pot start cooking the cucumbers with the water, butter, and salt until fork tender. With a hand blender or blender pulse till smooth the cooked cucumber with the water it was cooking in, white sauce, chopped onions, and beef stock. Then transfer back into the same pot and bring to a boil. A minute before serving add into the soup the heavy cream, white wine, the 2 egg yolks, and nutmeg, stir to combine. Taste for seasonings then serve and garnish with cilantro or parsley.
Credit: Foodista.com – The Cooking Encyclopedia Everyone Can Edit