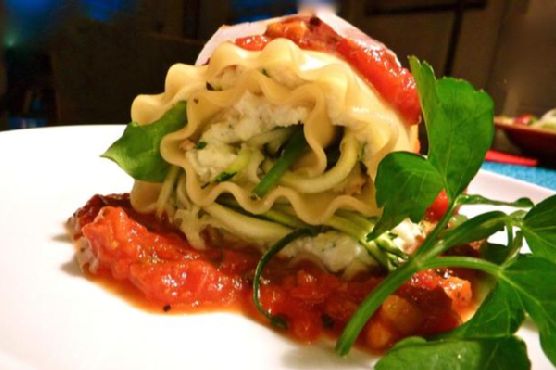 Veggie Lasagna Rolls W/ Peppery Pecorino Marinara might be just the Mediterranean recipe you are searching for. For $3.09 per serving, this recipe covers 37% of your daily requirements of vitamins and minerals. One serving contains 508 calories, 25g of protein, and 22g of fat. 1 person has made this recipe and would make it again. A mixture of mushrooms, garlic salt, chives, and a handful of other ingredients are all it takes to make this recipe so scrumptious. From preparation to the plate, this recipe takes roughly 45 minutes. All things considered, we decided this recipe deserves a spoonacular score of 91%. This score is super. Try Lasagna Marinara Rolls, Veggie Lasagna Rolls, and Braided Peppery Cheese Rolls for similar recipes.
Veggie Lasagna Rolls with Peppery Pecorino Marinara Instructions
PREHEAT THE OVEN TO 425*
COOK THE LASAGNA NOODLES PER PACKAGE
INSTRUCTIONS. RINSE W/ COOL WATER, DRAIN &
SET ASIDE.
COMBINE ALL THE INGREDIENTS FOR THE RICOTTA FILLING & SET ASIDE.
BEGIN THE SAUCE. PLACE THE GARLIC & OLIVE OIL IN A SAUTE PAN, COOK UNTIL THE GARLIC JUST STARTS TO BROWN. ADD THE CANNED TOMATOES ALL AT ONCE AND COOK FOR 1-2 MINUTES. THE TOMATO JUICE WILL START TO CARAMELIZE. CRUSH THE WHOLE TOMATOES WITH THE BACK OF A SPOON. ADD THE DRIED BASIL, OREGANO AND SAGE AND COOK DOWN AT MEDIUM HAT FOR ABOUT 20 MINUTES, UNTIL THE SAUCE IS THICK. ADD THE CHEESE AND COOK FOR ANOTHER MINUTES, STIRRING THE CHEESE INTO THE SAUCE.
LAY THE LASAGNA NOODLES OUT ON A CUTTING BOARD AND SPREAD WITH THE RICOTTA FILLING. DIVIDE THE SPINACH EQUALLY ON THE NOODLES AND THEN TOP WITH THE BASIL LEAVES.
SPRINKLE THE MUSHROOMS AND ZUCCHINI ON TOP AND ROLL THE NOODLES MAKING A ROLLED NOODLE.
PLACE A SMALL SPOONFUL OF MARINARA IN A DISH, PLACE THE LASAGNA ROLLS ON TOP OF THE SAUCE. BAKE ABOUT 15 MINUTES UNTIL THE ROLLS ARE HOT AND THE SPINACH IS JUST WILTED.
TOP WITH THE MARINARA AND SOME SHAVED PECORINO. SERVE HOT.
Credit: Foodista.com – The Cooking Encyclopedia Everyone Can Edit