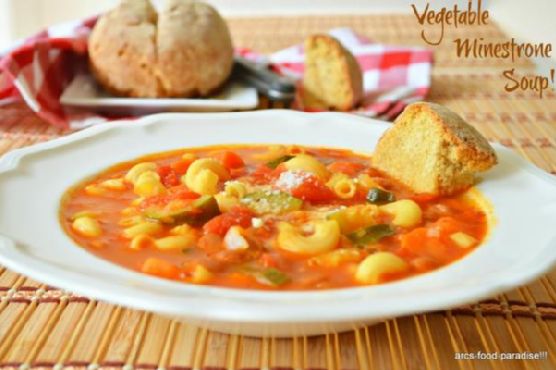 Vegetable Minestrone Soup might be just the main course you are searching for. This recipe makes 4 servings with 380 calories, 17g of protein, and 4g of fat each. For $1.37 per serving, this recipe covers 29% of your daily requirements of vitamins and minerals. This recipe is typical of Mediterranean cuisine. If you have bay leaf, parmesan cheese, ground pepper, and a few other ingredients on hand, you can make it. To use up the olive oil you could follow this main course with the Sauteed Banana, Granolan and Yogurt Parfait as a dessert. Only a few people made this recipe, and 1 would say it hit the spot. It can be enjoyed any time, but it is especially good for Autumn. From preparation to the plate, this recipe takes roughly 30 minutes. All things considered, we decided this recipe deserves a spoonacular score of 91%. This score is amazing. Try Vegetable Garden Minestrone Soup, The Vegetable Broth and the Minestrone — Le bouillon de légumes et la minestrone, and Vegetable Minestrone for similar recipes.
Vegetable Minestrone Soup Instructions
In a deep sauce pan or pot, heat about 2 tsps of oil or butter. Add bay leaf. When the bay leaf begins to splutter, add finely chopped onions and saute for a couple of mins until the onions are translucent.
In the meanwhile, boil water with a pinch of salt in another pot. Add pasta and cook for about 6 to 7 mins. When done, drain all the water and set the pasta aside.
Add the chopped zucchini and chopped carrots to the sauteed onions. Now, add salt and ground pepper and saute for a couple of mins. Empty the diced tomato cans into the sauce pan now. Add the remaining spices red chilli powder and dried basil to the tomatoes. Cover and let cook for at least 5 mins.
Empty the cannellini beans into a bowl. Rinse under running water to drain out all the canned liquid and add the beans to the sauce pan. Also, add the cooked pasta now. Add about 2 cups of water, cover and let cook for about 15 mins. Give a taste test and adjust salt if needed.
Serve with a hint of grated Parmesan cheese as garnish and some bread to dip into it!
Credit: Foodista.com – The Cooking Encyclopedia Everyone Can Edit