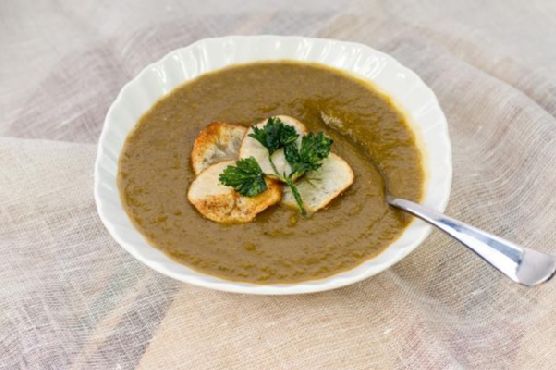 Vegan Colcannon Soup might be just the soup you are searching for. One portion of this dish contains roughly 7g of protein, 4g of fat, and a total of 209 calories. This recipe serves 8. For $1.51 per serving, this recipe covers 26% of your daily requirements of vitamins and minerals. This recipe is typical of European cuisine. Only a few people made this recipe, and 1 would say it hit the spot. It is brought to you by Foodista. It will be a hit at your Autumn event. Head to the store and pick up celery, leeks, kale, and a few other things to make it today. From preparation to the plate, this recipe takes around around 45 minutes. It is a good option if you're following a gluten free, dairy free, lacto ovo vegetarian, and whole 30 diet. Overall, this recipe earns an outstanding spoonacular score of 82%. Users who liked this recipe also liked Vegan Colcannon, Vegan Colcannon Cakes for St. Patrick's Day, and Colcannon Bites With Collard Greens (Vegan).
Vegan Colcannon Soup Instructions
Heat the oil in a large stockpot set over medium-high heat, until it shimmers. Add the leeks, garlic, and celery, and cook, stirring frequently, for 3 to 4 minutes, until the edges are golden. Add the parsnips, potatoes, cabbage, kale, stock, salt, and pepper and stir well. Reduce the heat to medium and cover. Bring the soup to a boil; then reduce the heat to a low simmer. Cook for 30 to 35 minutes, until the vegetables are tender and soft. Add the lemon juice. Using an immersion blender (or working in batches in a blender), pure until completely smooth. Serve immediately or store in an airtight container for up to 3 days.
Credit: Foodista.com – The Cooking Encyclopedia Everyone Can Edit