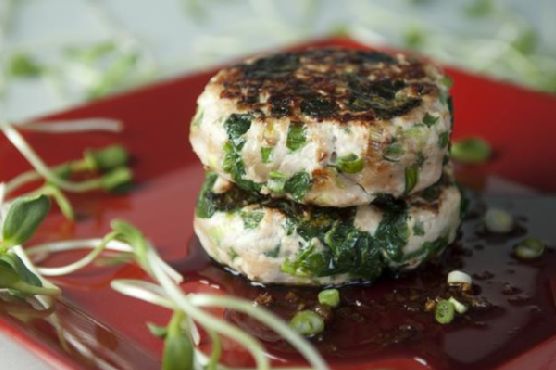 Turkey-Spinach Burgers With Sweet Soy-Ginger Sauce might be just the main course you are searching for. This recipe makes 4 servings with 219 calories, 29g of protein, and 7g of fat each. For $2.51 per serving, this recipe covers 23% of your daily requirements of vitamins and minerals. 3 people have tried and liked this recipe. This recipe is typical of American cuisine. If you have salt, pepper, canolan oil, and a few other ingredients on hand, you can make it. To use up the black pepper you could follow this main course with the Dr. Pepper Cake with Flour Cooked Frosting as a dessert. From preparation to the plate, this recipe takes approximately 45 minutes. It is a good option if you're following a gluten free and dairy free diet. All things considered, we decided this recipe deserves a spoonacular score of 72%. This score is pretty good. Try Sweet Potato Spinach and Bacon Turkey Burgers, Spinach and Feta Chicken Burgers (aka Spanakopita Burgers) with Grilled Halloumi, Roasted Red Peppers and a Spinach and Feta Sauce, and Sticky Ginger Soy Glazed Chicken for similar recipes.
Turkey-Spinach Burgers With Sweet Soy-Ginger Sauce Instructions
In small saucepan, combine soy sauce, mirin, brown sugar, and ginger; bring to boil over medium-high heat, whisking to dissolve sugar. Reduce until slightly syrupy, about 3 minutes. Adjust heat, if necessary, to prevent boil-over. Remove from heat and allow to cool completely. (Sauce may be prepared up to 2 days in advance and refrigerated in a covered container.)
Bring large pot of water to boil. Cook spinach for 1 minute. Drain and transfer to cold water bath to stop the cooking. Drain again. Dry thoroughly between layers of paper towels. (Spinach may be prepared up to 2 days in advance and refrigerated in covered container.)
In large bowl, combine turkey, scallions, sesame oil, reserved spinach, and 1 tablespoon of reserved sauce. Season with salt and pepper and blend well without overworking.
Form turkey-spinach mixture into 4 patties, about 3" across and 1" thick.
Heat oil in large nonstick skillet over medium-high heat. When hot, add patties and cook about 5 minutes per side, until nicely browned and cooked through. Lower heat if necessary to prevent burning. Serve with some of the sauce spooned over. Garnish with the sliced scallions, if desired.
Credit: Foodista.com – The Cooking Encyclopedia Everyone Can Edit