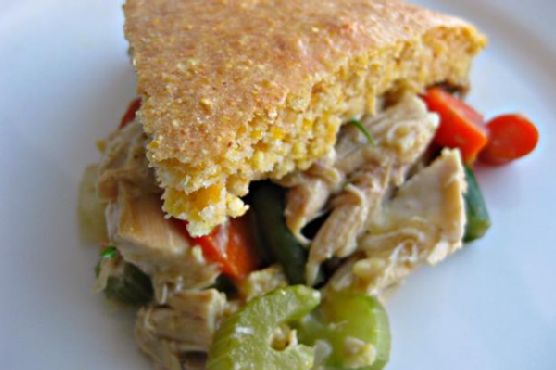 Turkey Pot Pie With Cornbread Crust might be just the Southern recipe you are searching for. This main course has 481 calories, 23g of protein, and 20g of fat per serving. For $1.16 per serving, this recipe covers 25% of your daily requirements of vitamins and minerals. 2 people were impressed by this recipe. From preparation to the plate, this recipe takes around 45 minutes. If you have celery, turkey, egg, and a few other ingredients on hand, you can make it. To use up the salt you could follow this main course with the Apple Turnovers Recipe as a dessert. All things considered, we decided this recipe deserves a spoonacular score of 71%. This score is solid. Similar recipes include Instant Pot Chicken Pot Pie Soup, Chicken Pot Pie Pockets, and Homemade Chicken Pot Pie Soup.
Turkey Pot Pie With Cornbread Crust Instructions
To make filling: Preheat the oven to 400F. Coat a pie plate (or any baking dish you like) generously with nonstick cooking spray. Heat olive oil in a large pan over medium heat. Add onion, carrots, celery, and green beans, and saut for about 10 minutes, until tender. Add garlic and stir constantly for 30 seconds. Sprinkle the flour into the pan and stir until it coats the vegetables, about 30 seconds. Slowly stir in 2 cups of h
To make crust: In a large bowl, whisk the cornmeal, flour, baking powder, sugar and salt. Stir milk, egg and canola oil until well combined in a separate bowl. Stir wet ingredients into dry ingredients. Spoon the batter evenly over the filling. Bake until the top is golden brown, about 22 to 25 minutes. Let cool for at least 15 minutes before serving.
Credit: Foodista.com – The Cooking Encyclopedia Everyone Can Edit