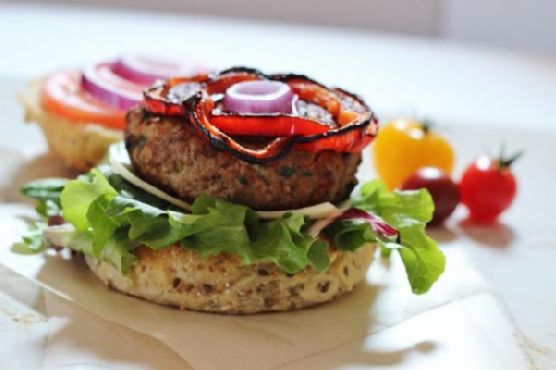 The recipe Turkey Burgers is ready in approximately 45 minutes and is definitely a tremendous dairy free option for lovers of American food. For $2.43 per serving, this recipe covers 23% of your daily requirements of vitamins and minerals. This recipe makes 4 servings with 201 calories, 30g of protein, and 4g of fat each. Head to the store and pick up paprika, spinach, garlic, and a few other things to make it today. To use up the egg you could follow this main course with the Rose Levy Beranbaum's Chocolate Tomato Cake with Mystery Ganache as a dessert. This recipe from Foodista has 12 fans. A couple people really liked this main course. All things considered, we decided this recipe deserves a spoonacular score of 82%. This score is excellent. Try Turkey Burgers, Turkey Burgers, and Turkey Burgers for similar recipes.
Turkey Burgers Instructions
Mix all ingredients in a large bowl. Don't overwork it - just combine enough to have it well mixed.
Form 4-6 round patties. Cook on med-high heat until done. If unsure, insert a thermometer - 165 F is the temp. you are aiming for.
For roasted red pepper rings, seed and slice red pepper, spritz with olive oil and bake at 425 for 20 minutes.
Credit: Foodista.com – The Cooking Encyclopedia Everyone Can Edit