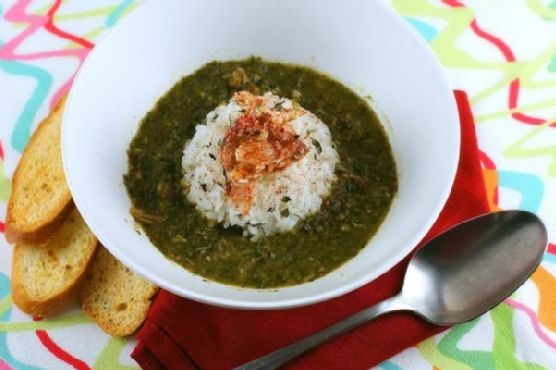 Trinidad Callaloo Soup could be just the gluten free and dairy free recipe you've been looking for. This main course has 508 calories, 17g of protein, and 42g of fat per serving. For $3.19 per serving, this recipe covers 34% of your daily requirements of vitamins and minerals. This recipe serves 4. Autumn will be even more special with this recipe. This recipe is typical of Central American cuisine. From preparation to the plate, this recipe takes approximately approximately 45 minutes. 1 person were impressed by this recipe. It is brought to you by Foodista. Head to the store and pick up coconut oil, okra, scallions, and a few other things to make it today. With a spoonacular score of 80%, this dish is pretty good. If you like this recipe, take a look at these similar recipes: Callaloo, Trinidad Spell, and Callaloo Stew.
Trinidad Callaloo Soup Instructions
Saute onion, okra, salt pork, thyme, garlic, habanero and scallions until the okra and onions brown. Stir in the callaloo with the chicken stock and simmer until the callaloo is tender. Puree with a stick blender. Adjust seasoning to taste with salt and pepper. Stir in coconut milk and crab, then warm gently. Serve with rice.
Credit: Foodista.com – The Cooking Encyclopedia Everyone Can Edit