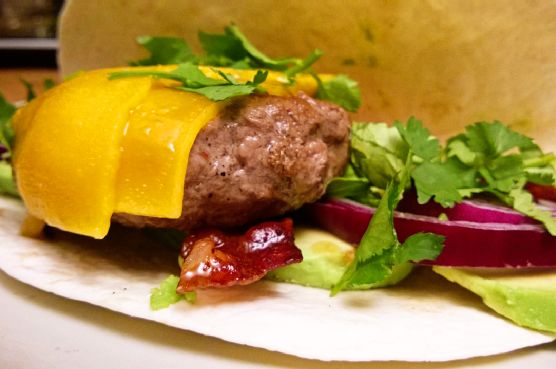 Tortilla Burger Loco Vaca might be just the main course you are searching for. One serving contains 1136 calories, 54g of protein, and 86g of fat. This recipe serves 2 and costs $3.71 per serving. From preparation to the plate, this recipe takes approximately 40 minutes. If you have avocado, bacon, cheddar cheese, and a few other ingredients on hand, you can make it. To use up the salt you could follow this main course with the Apple Turnovers Recipe as a dessert. This recipe is typical of American cuisine. Similar recipes include Loco for Moco: Blend and Extend Loco Moco, Vaca Frita: Crispy Beef, and Loco Moco.
Tortilla Burger Loco Vaca Instructions
Put the tortillas in the oven at about 80°C just to get them warm.
Fry the strips of bacon until crispy, then put the bacon in the oven to keep it warm.
Spice the ground beef with salt, pepper, and cumin.
Form 2 large patties and start frying the patties in a well heated pan.
Slice the avocado and the red onion.
Get the tortillas out of the oven and prepare them with the onion, avocado, bacon, cheddar, cilantro, and the patties.
Wrap it all up and then wrap your teeth around it.
Credit: dsky