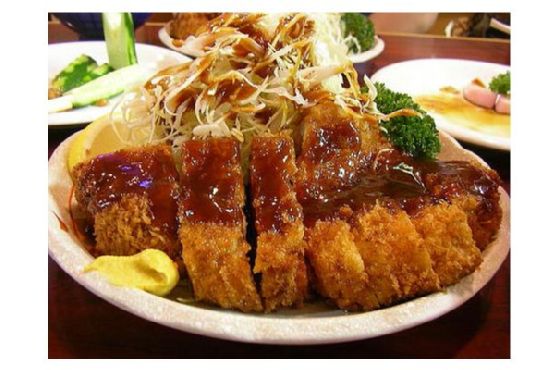 Need a dairy free main course? Tonkatsu could be an awesome recipe to try. One serving contains 155 calories, 16g of protein, and 7g of fat. This recipe serves 8 and costs 88 cents per serving. 1 person has made this recipe and would make it again. Head to the store and pick up egg, salt, vegetable oil, and a few other things to make it today. To use up the pepper you could follow this main course with the Dr. Pepper Cake with Flour Cooked Frosting as a dessert. From preparation to the plate, this recipe takes approximately 45 minutes. This recipe is typical of Japanese cuisine. All things considered, we decided this recipe deserves a spoonacular score of 36%. This score is not so excellent. Try Tonkatsu, Tonkatsu, and Tonkatsu for similar recipes.
Tonkatsu Instructions
Sprinkle the pork with salt and pepper; flour lightly.D ip the pork in beaten egg and roll in panko bread crumbs. Fry the cutlets in 320F oil for a few minutes; turn and fry a few more minutes. Drain on a paper towel.
Credit: Foodista.com – The Cooking Encyclopedia Everyone Can Edit