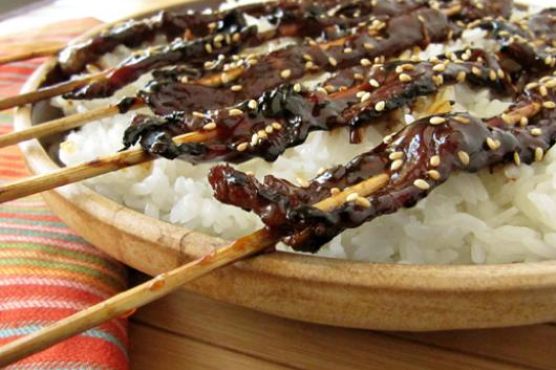 The recipe Thinly Sliced Beef Yakitori is ready in around 1 hour and 40 minutes and is definitely an awesome gluten free and dairy free option for lovers of Japanese food. This recipe serves 4. One serving contains 593 calories, 30g of protein, and 37g of fat. For $3.7 per serving, this recipe covers 19% of your daily requirements of vitamins and minerals. It works well as a main course. This recipe from Foodista requires ginger, brown sugar, cornstarch, and sesame oil. 1 person found this recipe to be yummy and satisfying. Overall, this recipe earns a pretty good spoonacular score of 71%. Try Thinly Sliced Zucchini, Poached-Chicken Salad with Thinly Sliced Vegetables, and LA Galbi (Thinly Sliced BBQ Short Ribs) for similar recipes.
Thinly Sliced Beef Yakitori Instructions
Place the mirin in a medium pot and boil over high heat.
Reduce to medium low and add remaining ingredients.
Simmer for 20 minutes.
Place half of sauce in a Ziploc bag or container and refrigerate until cool.
While the mirin mixture is simmering, take thinly sliced beef flap steak and cut into 1-2 inch strips for skewering.
Submerge in cooled marinade and refrigerate for at least another hour.
While the meat is marinating, take bamboo or wooden skewers and soak in cool water for 30 minutes.
In a small bowl, whisk the cornstarch with water.
Bring the remaining sauce to a boil and thicken with the cornstarch mixture, constantly stirring.
Let the sauce cook for 5 more minutes, tasting to make sure the cornstarch has fully dissolved.
Once ready, pour into small bowl and set aside.
Preheat grill to high (roughly 400).
Just before grilling, take marinated beef and skewer so that the meat can lie flat.
Place canola oil in a small bowl.
Using a paper towel or cloth, dip in canola oil and rub over hot grates to prevent sticking.
Lay beef skewers over heat and stay nearby to monitor.
Once bottom is a little charred, brush the tops with canola oil, and flip.
Brush again with thickened teriyaki sauce.
Once the bottoms are slightly charred again, be careful not to overcook, flip and brush with thickened teriyaki sauce, so both sides are sauced.
Remove and garnish with toasted sesame seeds.
Serve with rice.
Credit: Foodista.com – The Cooking Encyclopedia Everyone Can Edit