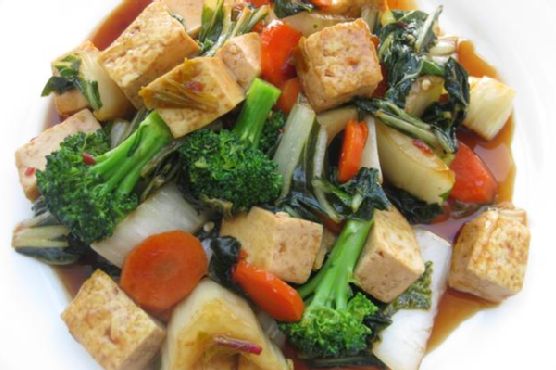 The recipe Thai Tofu With Bok Choy is ready in approximately 45 minutes and is definitely a super gluten free, dairy free, and pescatarian option for lovers of Asian food. This side dish has 181 calories, 11g of protein, and 10g of fat per serving. For $1.72 per serving, this recipe covers 24% of your daily requirements of vitamins and minerals. Not a lot of people made this recipe, and 1 would say it hit the spot. A mixture of corn starch, fish sauce, soy sauce, and a handful of other ingredients are all it takes to make this recipe so delicious. All things considered, we decided this recipe deserves a spoonacular score of 85%. This score is outstanding. Try Bok Choy, Shiitake, and Garlic Noodles, Garlic Ginger Zucchini Noodle Bowl with Salmon and Bok Choy, and Tofu with Bok Choy for similar recipes.
Thai Tofu With Bok Choy Instructions
Cut the tofu into 1" cubes. Whisk together sauce ingredients (soy sauce, oyster sauce, fish sauce, brown sugar, and chili paste). Set aside.
Heat 2 tsp sesame oil over medium-high heat in a large wok or pan. When the pan is hot, add the tofu and let cook for 2 minutes on one side, undisturbed, until they develop a crisp crust. Flip and cook 2 minutes more.
Remove the tofu to a plate. Return pan to the heat.
Add remaining 1 tsp sesame oil to the pan along with the carrots. Saute for 3 minutes, until the carrots begin to soften.
Add the bok choy and saute for 2 minutes, until it begins to soften and wilt.
Stir in the sauce.
Return the tofu to the pan and stir in the corn starch mixture. Allow the sauce to come to a boil for it to thicken. Stir.
Serve with rice.
Credit: Foodista.com – The Cooking Encyclopedia Everyone Can Edit