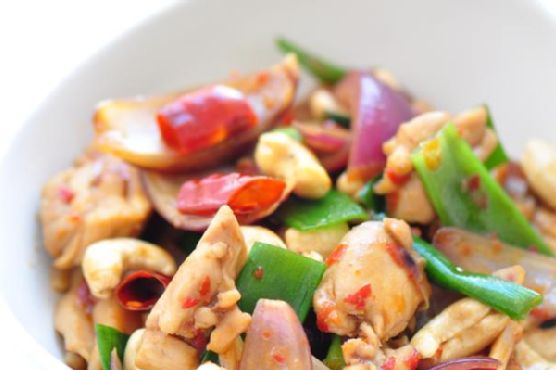 Thai Stir-Fry Chicken With Cashew Nuts requires roughly about 45 minutes from start to finish. For $1.95 per serving, this recipe covers 18% of your daily requirements of vitamins and minerals. This recipe makes 3 servings with 212 calories, 28g of protein, and 7g of fat each. If you have chilies, onion, green onion, and a few other ingredients on hand, you can make it. 1 person were impressed by this recipe. It is brought to you by Foodista. This recipe is typical of Asian cuisine. It is a good option if you're following a gluten free and dairy free diet. All things considered, we decided this recipe deserves a spoonacular score of 54%. This score is solid. Similar recipes include Cashew Beef Thai Stir Fry, Cashew Chicken Stir Fry, and Chicken and Cashew Stir-Fry.
Thai Stir-Fry Chicken With Cashew Nuts Instructions
On medium flame, fry the garlic until fragrant and not brown. Add in the chicken and cook until nearly done. Then, add in Thai chili paste and stir well. Add a bit less than recommended if you cant take spiciness. Add in the onion, cashew nuts, dry chilies and spring onion. Give it a good mix and cook for about 2 minutes. Then, season with soya sauce. Add in dark soya sauce to sweeten the dish and give it a little bit of colour. Serve warm.
Credit: Foodista.com – The Cooking Encyclopedia Everyone Can Edit