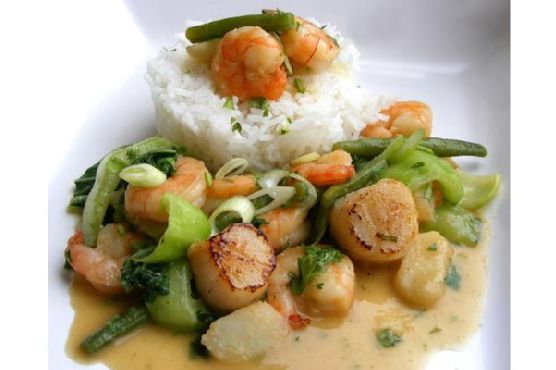 The recipe Thai Shrimp is ready in about 45 minutes and is definitely an excellent gluten free, dairy free, and pescatarian option for lovers of Asian food. This recipe makes 4 servings with 368 calories, 27g of protein, and 8g of fat each. For $3.42 per serving, this recipe covers 23% of your daily requirements of vitamins and minerals. It works well as a pretty expensive main course. 8 people have made this recipe and would make it again. A mixture of chilies, chicken stock, rice, and a handful of other ingredients are all it takes to make this recipe so yummy. To use up the peanut oil you could follow this main course with the Salted Peanut Toffee Cookies as a dessert. All things considered, we decided this recipe deserves a spoonacular score of 74%. This score is solid. Try Shrimp Pad Thai for Two, Shrimp Pad Thai, and Shrimp Pad Thai for similar recipes.
Thai Shrimp Instructions
Peel and devein shrimp. Wash, dry and steam basil, mince garlic, thinly slice seeded chilies, mince white part of onion and cut green part into 1 inch pieces. Recipe can be prepared ahead to this stage.
Heat wok over high heat. Swirl oil into wok and heat almost to smoking. Add garlic, chilies, onions (white part), and cook 10-15 seconds; add shrimp and stir fry 20 seconds or until they change color. Add fish sauce, soy sauce, sugar, chicken, stock and green part of onions and bring mixture to a boil. Stir in basil and cook 20 seconds or until leaves wilt and shrimp are firm and pink. Dish is supposed to be soupy. Serve over hot cooked rice.
Credit: Foodista.com – The Cooking Encyclopedia Everyone Can Edit