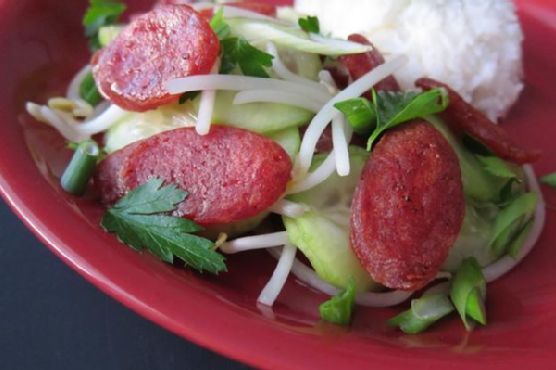 You can never have too many Asian recipes, so give Thai Sausage Salad a try. This recipe serves 2. One portion of this dish contains approximately 45g of protein, 68g of fat, and a total of 939 calories. For $4.25 per serving, this recipe covers 37% of your daily requirements of vitamins and minerals. It is a good option if you're following a gluten free and dairy free diet. It is brought to you by Foodista. 1 person has made this recipe and would make it again. A mixture of green onions, thai fish sauce, lime juice, and a handful of other ingredients are all it takes to make this recipe so delicious. It works well as a rather pricey main course. From preparation to the plate, this recipe takes roughly roughly 45 minutes. Taking all factors into account, this recipe earns a spoonacular score of 65%, which is solid. Users who liked this recipe also liked Thai Sausage Rolls, Falconetti's Chicken Thai Sausage, and Thai-Style Sausage and Rice Dressing.
Thai Sausage Salad Instructions
In a small bowl, combine the dressing ingredients and stir until the sugar has dissolved. Taste and adjust with more sugar or fish sauce if needed (some limes are more tart than others). Set aside. Slice the sausage thinly on the diagonal. Place in a non stick skillet over medium heat and saut until the edges are slightly browned and sausage is cooked thru, about 5 minutes. Dont over cook. Set aside to cool Peel the cucumbers, slice thinly and place in a large bowl. Thinly slice the green onions on the diagonal and add to the bowl. Add the bean sprouts, cooked sausage and the dressing. Lightly toss and serve on plates with jasmine rice on the same plate. Garnish with a few slivers of sliced hot chili pepper, if desired, and a few leaves of fresh parsley or cilantro. Serves 2 as a main course salad.
Credit: Foodista.com – The Cooking Encyclopedia Everyone Can Edit