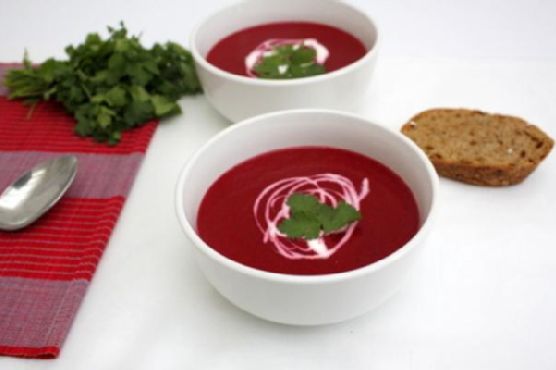 The recipe Thai Coconut Beetroot Soup could satisfy your Asian craving in about 45 minutes. This gluten free, whole 30, and vegan recipe serves 4 and costs $1.76 per serving. This soup has 331 calories, 4g of protein, and 29g of fat per serving. Only a few people made this recipe, and 1 would say it hit the spot. It can be enjoyed any time, but it is especially good for Autumn. A mixture of beetroot, pepper, coconut milk, and a handful of other ingredients are all it takes to make this recipe so scrumptious. All things considered, we decided this recipe deserves a spoonacular score of 43%. This score is good. Try Thai Coconut Soup (Tom Kha Gai), The Best Thai Coconut Soup, and Thai coconut soup for similar recipes.
Thai Coconut Beetroot Soup Instructions
Remove the leafy parts of the beetroot. Do not trim the roots so that it does not bleed
Add the beetroot to a pot, cover with plenty of water, bring to the boil and then simmer until tender (between 45-60 mins depending on its size).
Drain the beetroot and when pieces are cool down peel and chop them.
Add the oil to a saucepan and fry the onion for about 7 mins until soft.
Add in the beetroot and curry paste and cook for a few mins.
Stir in the coconut milk and stock, season with salt and pepper and bring to the boil then reduce to a simmer for about 5 mins.
Let the soup cool and whizz with a hand held blender or in a food processor.
Add lemon juice to you taste and adjust season and serve.
Credit: Foodista.com – The Cooking Encyclopedia Everyone Can Edit