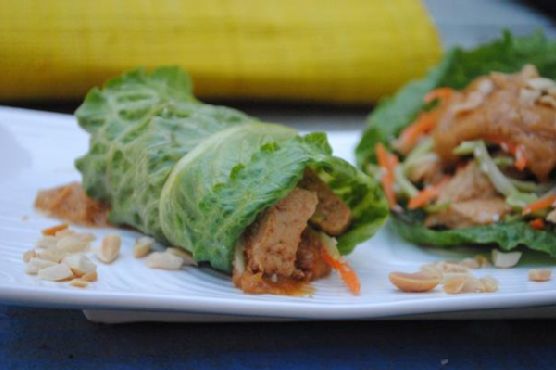 Thai "Chicken" Wraps is a gluten free, dairy free, and fodmap friendly side dish. This recipe serves 6. For $1.05 per serving, this recipe covers 18% of your daily requirements of vitamins and minerals. One serving contains 319 calories, 14g of protein, and 26g of fat. 1 person were glad they tried this recipe. Head to the store and pick up , of natural peanut butter, sesame oil, and a few other things to make it today. Not a lot of people really liked this Asian dish. From preparation to the plate, this recipe takes roughly roughly 45 minutes. It is brought to you by Foodista. All things considered, we decided this recipe deserves a spoonacular score of 67%. This score is solid. If you like this recipe, take a look at these similar recipes: Thai Chicken Wraps, Thai Chicken Wraps, and Thai Chicken Lettuce Wraps.
Thai "Chicken" Wraps Instructions
Toss faux chicken strips with shoyu and oil until well coated. Heat in saute pan over medium-low heat until heated through. In medium bowl, add sesame seeds, sprouts, slaw mix, basil, sugar, vinegar and salt & pepper. Toss until thoroughly coated. Set aside. To make the SAUCE: in small bowl, whisk Earth Balance natural peanut butter with shoyu and vinegar. Add in oil while whisking until consistency is slightly runny. Chop off the rough end of romaine leaves; smooth out flat and pile on the faux chicken, slaw mixture and drizzle with peanut sauce. Top with crushed peanuts (optional) and carefully wrap and roll, starting from one end. Leave seam side down.
Credit: Foodista.com – The Cooking Encyclopedia Everyone Can Edit