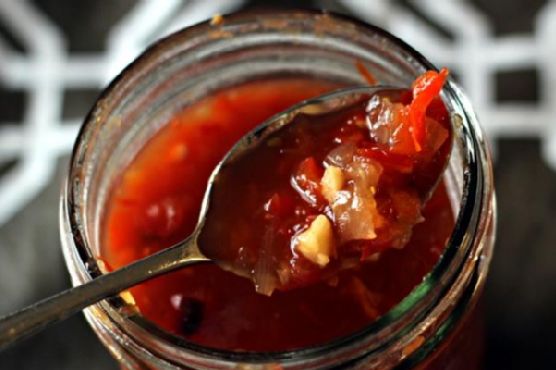 Sweet & Spicy Thai Relish is a gluten free, dairy free, and pescatarian side dish. For $2.58 per serving, this recipe covers 15% of your daily requirements of vitamins and minerals. This recipe makes 3 servings with 85 calories, 4g of protein, and 1g of fat each. This recipe is liked by 1 foodies and cooks. From preparation to the plate, this recipe takes roughly 45 minutes. This recipe is typical of Asian cuisine. Head to the store and pick up chile de arbols, very onion, grape tomatoes, and a few other things to make it today. All things considered, we decided this recipe deserves a spoonacular score of 61%. This score is solid. Similar recipes include Relish the Summer: Sweet and Spicy Corn Relish, Thai Fishcakes With Sweet Chilli Sauce and Cucumber Relish, and Sweet and Spicy Pickle Relish.
Sweet & Spicy Thai Relish Instructions
Heat a large cast iron skillet over medium heat. Once hot, dry-fry (meaning, dont add any fat or oil to the pan) the whole chilies for one minute, then set aside in a small bowl. They should be fragrant and slightly darker in color, but not burnt. In the same pan, dry-fry the chopped onion, bell pepper, and garlic for 2 minutes until brown but not burnt, then set aside on a large plate.
Toss in the tomatoes and dry-fry for 1-2 minutes until charred on the outside, stirring frequently. Set on the plate with the onions, pepper, and garlic. Turn the stove off, then use your hands to break apart the chilies into smaller pieces. Dont try to use a knife, because they will fly all over the kitchen. Place the chilies in the bowl of a blender or large food processor, then wash your hands thoroughly with soap and warm water to remove any oils left from the chilies.
Add the third cup fish sauce, quarter cup lime juice, and sugar to the blender, along with the reserved onion, bell pepper, garlic, and tomatoes. Pulse on chop mode or equivalent until the mixture forms a chunky sauce. Serve either warm or chilled.
Credit: Foodista.com – The Cooking Encyclopedia Everyone Can Edit