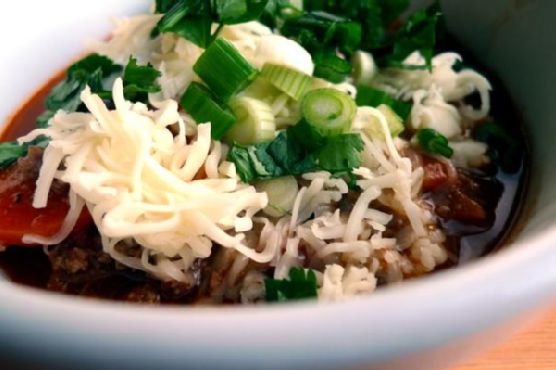 Superbowl Chili might be just the main course you are searching for. This recipe makes 8 servings with 576 calories, 65g of protein, and 24g of fat each. For $4.64 per serving, this recipe covers 43% of your daily requirements of vitamins and minerals. It is perfect for The Super Bowl. A mixture of kosher salt, canned tomatoes, chicken stock, and a handful of other ingredients are all it takes to make this recipe so tasty. 1 person has tried and liked this recipe. From preparation to the plate, this recipe takes approximately 45 minutes. It is a good option if you're following a gluten free diet. All things considered, we decided this recipe deserves a spoonacular score of 83%. This score is great. Try Lean Mean Game Day Chili – Superbowl, Superbowl Special: Chicken & White Bean Chili, and Superbowl Special: Touchdown Guacamole for similar recipes.
Superbowl Chili Instructions
In a large heavy pot set over high heat, saute ground beef and steak chunks, stirring frequently, until browned, about 8 minutes. With a slotted spoon, remove beef to a plate and pour off the remaining liquid in the pan. (I used a strainer over a large bowl, and put all the meat in it to drain the excess fat off).
Add olive oil to the same pot that you cooked your meat in and set over medium heat. When hot, add carrots, onions, and garlic and saute, stirring, until softened, about 5 minutes. Return beef to pot, and add chili powder, cumin, oregano, salt, and chopped chipotle chile; stir and cook 1 minute. Add tomatoes and broth. Bring to a simmer, reduce heat to a gentle simmer, and cook for 30 minutes more, stirring occasionally. Much of the liquid will cook down during this time.
Stir in all but 1/3 cup of black beans and cook 5 minutes more. Mash reserved beans with a fork, and stir into the chili to give it extra body. If chili is too thick, stir in as much as 1 cup additional broth and heat several minutes to warm. Chili can be prepared two days ahead. Cool, cover and refrigerate. Reheat over medium heat, stirring often.
Ladle into bowls and garnish with toppings. Enjoy!
Credit: Foodista.com – The Cooking Encyclopedia Everyone Can Edit