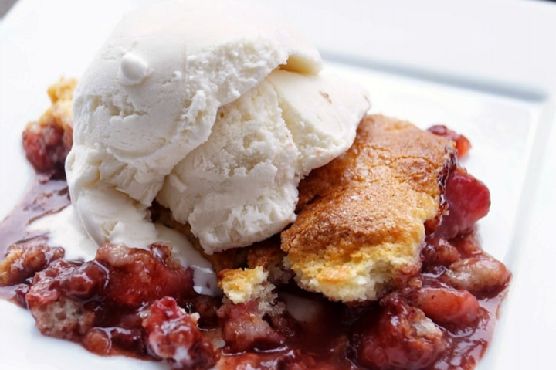 The recipe Strawberry and Nutella Cobbler could satisfy your Southern craving in roughly 45 minutes. This recipe makes 3 servings with 664 calories, 7g of protein, and 26g of fat each. For $1.79 per serving, this recipe covers 17% of your daily requirements of vitamins and minerals. It can be enjoyed any time, but it is especially good for Mother's Day. 435 people were impressed by this recipe. Head to the store and pick up baking powder, cornstarch, salt, and a few other things to make it today. Several people really liked this dessert. It is a good option if you're following a vegetarian diet. All things considered, we decided this recipe deserves a spoonacular score of 67%. This score is pretty good. Try Strawberry Nutella Cheesecake, Strawberry Nutella Poptarts, and Strawberry Nutella Muffins for similar recipes.
Strawberry and Nutella Cobbler Instructions
Preheat oven to 400 degrees.Combine strawberries, nutella, cornstarch, sugar, and vanilla in a mixing bowl until strawberries are evenly coated.Pour mixture into a 9 inch round pie pan.In another mixing bowl, whisk together flour, sugar, baking powder, and salt.Slowly add the cream and whisk until just combined.Roll out the mixture onto a non stick baking mat and knead one or two times to combine.Grab a handful of dough (approx 3 tbsp.) and roll into a ball and then gently flatten.Lay biscuits over the strawberry mixture, having them slightly overlap. These do not have to be perfect.Spread a small amount of left over cream over the biscuits and then sprinkle with a small amount of sugar.Bake for 20-25 minutes or until biscuits are golden brown and the strawberries are bubbling.Let cool for at least half an hour so that the strawberry juices can firm back up.Serve warm with whipped cream or ice cream!
Credit: Jen West