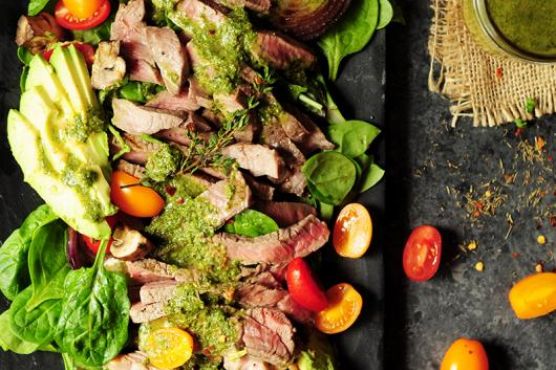 If you want to add more gluten free and dairy free recipes to your recipe box, Steak Salad with Chimichurri Sauce might be a recipe you should try. This recipe serves 4. This main course has 475 calories, 29g of protein, and 34g of fat per serving. For $5.38 per serving, this recipe covers 32% of your daily requirements of vitamins and minerals. If you have red wine vinegar, bone broth, salt, and a few other ingredients on hand, you can make it. 1 person found this recipe to be delicious and satisfying. This recipe is typical of Latin American cuisine. It is perfect for valentin day. From preparation to the plate, this recipe takes roughly 30 minutes. It is brought to you by Foodista. Overall, this recipe earns a great spoonacular score of 87%. Users who liked this recipe also liked Steak with Chimichurri Sauce (Carne con Chimichurri), Bistec Argentino al Chimichurri (Steak with Chimichurri Sauce), and Bistec Argentino al Chimichurri (Steak with Chimichurri Sauce).
Steak Salad with Chimichurri Sauce Instructions
Preheat grill to medium high heat.
Season red onion rings and mushrooms with 1 tablespoon olive oil, salt and pepper to taste. Place onion rings and mushrooms on grill. Grill for 4-5 minutes per side until char marks appear. Remove and set aside.
Take steak out of your fridge and let it sit in the room temperature for 5 minutes. Use a paper towel to gently pat the surface of both sides of the steak dry.
Brush olive oil on both sides of the steak or use olive oil cooking spray. Generously season the steak with salt and freshly ground pepper.
Place the steak on the grill. Grill each side for 3-5 minutes until the internal temperature of the steak reaches 145°F for medium doneness; 135°F for medium rare and 155°F for medium well. Let rest for 5 minutes before slicing.
To make the Chimichurri sauce, place all ingredients in a food processor, blend for about 30 seconds or until all ingredients are combined well (any remaining sauce can be stored in the refrigerator for up to 2 weeks).
To assemble, arrange baby spinach spring mix on the bottom of a large serving plate, followed by the onion rings and mushrooms. Slice the steak and place on top of the vegetables. Top with cherry tomatoes and sliced avocado.
Drizzle the Chimichurri sauce over the steak salad and serve!
Credit: Foodista.com – The Cooking Encyclopedia Everyone Can Edit