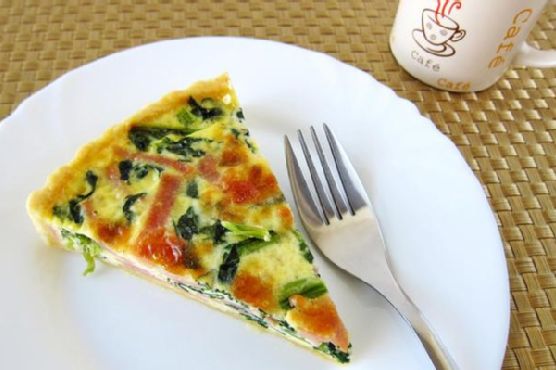 Spinach & Ham Quiche might be just the morn meal you are searching for. For 53 cents per serving, this recipe covers 14% of your daily requirements of vitamins and minerals. One serving contains 304 calories, 10g of protein, and 20g of fat. 2 people have tried and liked this recipe. This recipe is typical of Mediterranean cuisine. A mixture of whipping cream, milk, picnic ham, and a handful of other ingredients are all it takes to make this recipe so delicious. From preparation to the plate, this recipe takes around 45 minutes. All things considered, we decided this recipe deserves a spoonacular score of 44%. This score is pretty good. Try Spinach Quiche, Spinach Quiche, and Spinach Quiche for similar recipes.
Spinach & Ham Quiche Instructions
With little oil, fry shallot till fragrant and golden brown.
Add ham fry for a while and add spinach and fry till spinach cooked, dish up and set aside.
Measure whipping cream and milk together in measuring cup (you can omit whipping cream and use all 160ml milk) add eggs, lightly beaten and pinch of salt, mix well.
Spread ham spinach and cheddar cheese evenly over the bottom of the prepared tart pan, add a dash of pepper then gently pour egg mixture over it.
Bake at preheated 180C for 40 mins and serve hot or warm.
Credit: Foodista.com – The Cooking Encyclopedia Everyone Can Edit