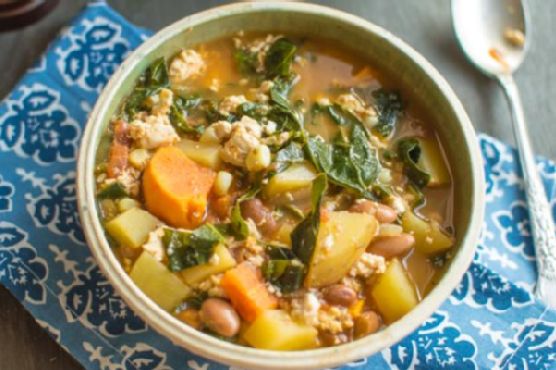 The recipe Spicy Vegan Chili is ready in about 45 minutes and is definitely a tremendous gluten free and vegan option for lovers of American food. For $1.67 per serving, this recipe covers 21% of your daily requirements of vitamins and minerals. This soup has 206 calories, 11g of protein, and 7g of fat per serving. 1 person were impressed by this recipe. A mixture of cumin, roma tomatoes, yukon potato, and a handful of other ingredients are all it takes to make this recipe so scrumptious. It can be enjoyed any time, but it is especially good for The Super Bowl. All things considered, we decided this recipe deserves a spoonacular score of 79%. This score is pretty good. Try Spicy 3-Bean Chili (Vegan), Hot & spicy vegan chili with lentil-walnut meat, and 7th Annual Chili Contest: Entry #5 – Spicy Chile Chili for similar recipes.
Spicy Vegan Chili Instructions
Heat the olive oil in a pot over medium-high heat. Once the pan is hot, add the onions. When the onions start to turn translucent, add the diced potatoes. Let it cook for a minute or two, and add the diced tomatoes, jalapeo, garlic, chili powder, cumin, and cayenne pepper.
Cook everything for about another minute and add the vegetable broth. Bring the broth to a boil.
While the chili is cooking, remove the rough stem from the collard green leaves. Chop them into strips.
Once the chili has boiled, add the beans and chopped collards. Chop the tofu in half, and crumble each half with your hands. I did this right over the boiling pot. Be careful of hot liquids splashing out!
Season with the salt and boil for another 5-10 minutes, or until the potatoes can be easily pierced with a fork.
Turn off the heat and serve the chili with some ground pepper.
Store any leftovers in an airtight container.
Credit: Foodista.com – The Cooking Encyclopedia Everyone Can Edit