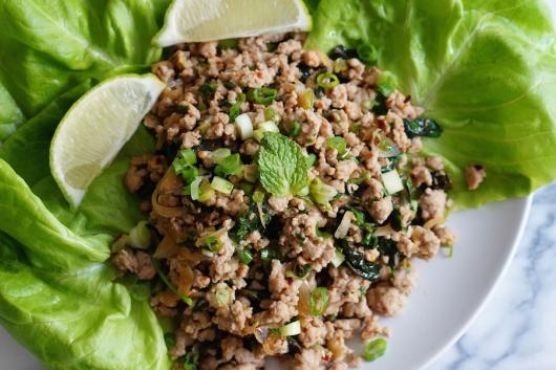 The recipe Spicy Thai Pork Lettuce Wraps is ready in approximately 30 minutes and is definitely a great gluten free, dairy free, paleolithic, and primal option for lovers of Asian food. This hor d'oeuvre has 493 calories, 29g of protein, and 36g of fat per serving. This recipe serves 2. For $2.57 per serving, this recipe covers 25% of your daily requirements of vitamins and minerals. If you have handful, lime juice, shallots, and a few other ingredients on hand, you can make it. It is brought to you by Foodista. 1 person were impressed by this recipe. Overall, this recipe earns a good spoonacular score of 51%. Similar recipes include Spicy Thai Style Lettuce Wraps, Thai Pork Lettuce Wraps, and Thai Chicken Lettuce Wraps with Spicy Peanut Sauce.
Spicy Thai Pork Lettuce Wraps Instructions
Prepare the sauce in a small bowl by mixing the fish sauce, lime juice and sugar. Set this aside.
Finely chop the shallots and cut the spring onion stalks. While a pan is set on medium fire add coconut oil to the pan and then the shallots.
Add the ground pork and cook, making sure to break it up into bits & pieces.
When its 90% cooked, add the sauce mixture and let it simmer.
Add the chili flakes.
At the last moment, you want to add the spring onions and handful of cilantro (I like to tear it up with my fingers over the pan).
Finally add fresh mint leaves to garnish.
Serve on a bed of crisp lettuce to eat as lettuce wraps.
Credit: Foodista.com – The Cooking Encyclopedia Everyone Can Edit