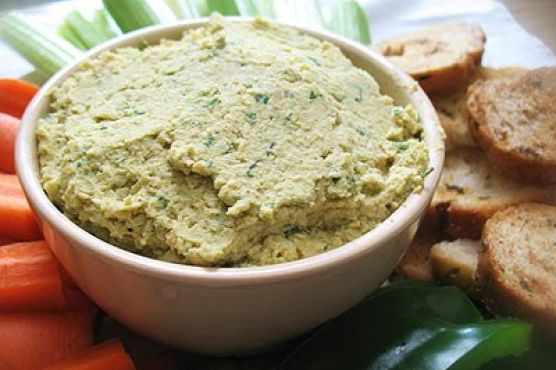 Spicy Indian-Style Hummus might be just the hor d'oeuvre you are searching for. This recipe makes 12 servings with 134 calories, 5g of protein, and 6g of fat each. For 43 cents per serving, this recipe covers 11% of your daily requirements of vitamins and minerals. It is a good option if you're following a gluten free and vegan diet. Several people made this recipe, and 161 would say it hit the spot. If you have ground cumin, turmeric, chilies, and a few other ingredients on hand, you can make it. From preparation to the plate, this recipe takes roughly 45 minutes. This recipe is typical of middl eastern cuisine. All things considered, we decided this recipe deserves a spoonacular score of 97%. This score is amazing. Try Indian Style Spicy Couscous, Kashmiri-Style leg of lamb – this Indian style of lamb is a real treat, everyone will think you are a gourmet chef, and Indian- Style Chicken for similar recipes.
Spicy Indian-Style Hummus Instructions
Rinse the chickpeas and soak for 8 hours or overnight covered in several inches of water with a little yogurt whey or lemon juice added. Drain and rinse, then transfer to a large saucepan. Cover with several inches of fresh water, bring to a boil, reduce the heat to medium-low and cover. Simmer for 1 to 1 1/2 hours or until the beans are buttery soft. Drain.In a food processor, combine all of the ingredients and process until you have a thick, smooth paste. You may need to add extra olive oil or a bit of water if you want a thinner paste. Makes 3 cups, nutrition information is based on 1/4 cup serving.
Credit: Lisa's Vegetarian Kitchen