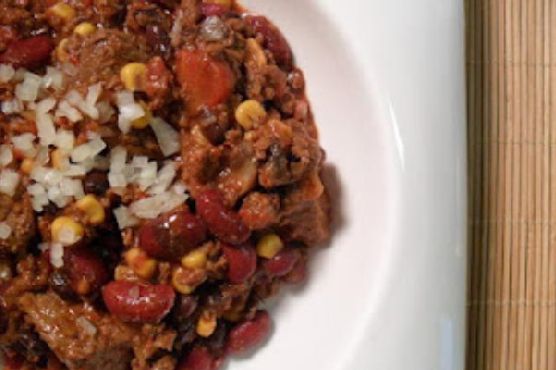 Spicy Chili w Boneless Beef Short Ribs might be just the main course you are searching for. This recipe serves 6 and costs $5.95 per serving. One serving contains 1632 calories, 74g of protein, and 134g of fat. Not a lot of people made this recipe, and 1 would say it hit the spot. From preparation to the plate, this recipe takes roughly 45 minutes. The Super Bowl will be even more special with this recipe. This recipe is typical of American cuisine. Head to the store and pick up salt and pepper, garlic cloves, mushrooms, and a few other things to make it today. To use up the tomato you could follow this main course with the Pink Peony Popcorn Balls as a dessert. It is a good option if you're following a gluten free, dairy free, and ketogenic diet. All things considered, we decided this recipe deserves a spoonacular score of 78%. This score is good. Similar recipes include Pressure-Cooker Asian-Style Boneless Beef Short Ribs, Tender Gluten Free Gourmet Boneless Beef Short Ribs, and Darned Good Boneless Short Ribs.
Spicy Chili w Boneless Beef Short Ribs Instructions
1.Brown both meats in a Dutch oven or large pot over medium-high heat. Add 2 cups of water and bring to a boil. Discard fatty oil either by draining or with a strainer. Add about 4 cups of new water and bring to a boil for 10 minutes.
2.Add remaining ingredients; keep at a boil for another 10 minutes. Reduce heat to low, and simmer, slightly uncovered, stirring occasionally, 45 minutes or until beef is tender.
3.Serve with rice or/and desired toppings like diced onions, cheese, or crackers.
*Instead of using pre-made chili mix packets (like we do), you can also combine the following ingredients to make your own chili seasoning: chili powder, cumin, oregano, cayenne pepper, and salt.
Credit: Foodista.com – The Cooking Encyclopedia Everyone Can Edit