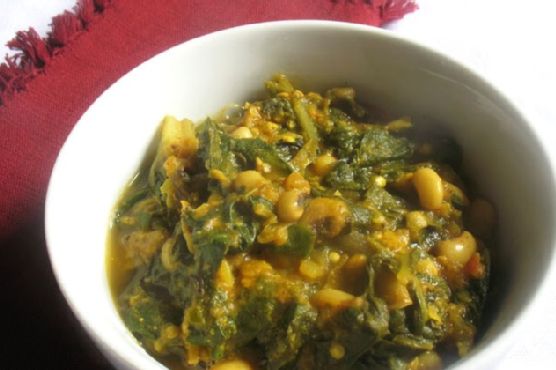 The recipe Spicy Black-Eyed Pea Curry with Swiss Chard and Roasted Eggplant is ready in roughly 45 minutes and is definitely a spectacular gluten free and vegan option for lovers of Indian food. This recipe makes 6 servings with 130 calories, 7g of protein, and 2g of fat each. For 99 cents per serving, this recipe covers 21% of your daily requirements of vitamins and minerals. A few people made this recipe, and 32 would say it hit the spot. A mixture of chilies, olive oil, garam masala, and a handful of other ingredients are all it takes to make this recipe so delicious. All things considered, we decided this recipe deserves a spoonacular score of 98%. This score is amazing. Try Black-eyed Peas In A Spicy Goan Curry, Black-eyed Peas In A Spicy Goan Curry, and Roasted Butternut Squash, Black Bean and Swiss Chard Quinoa Bibimbap for similar recipes.
Spicy Black-Eyed Pea Curry with Swiss Chard and Roasted Eggplant Instructions
Rinse the black-eyed peas and soak in several inches of water for 6 hours or overnight. Drain and rinse, then transfer to a large saucepan and cover with fresh water. Bring to a boil, reduce heat to medium-low, cover, and simmer for 40 to 60 minutes. Take care not to overcook the beans should be tender but not be falling apart. Drain and set aside.To prepare the eggplant, cut of the stem and bottom edge and then cut in half lengthwise. Score the flesh into diagonal 1-inch lines, then turn and score again until you have a diagonal pattern. Take care not to cut through the skin. Sprinkle with some salt and let sit for 40 minutes. Rinse and squeeze out any excess water. Brush the eggplant with some oil and transfer to a roasting pan. Bake in a preheated 400 oven until the flesh appears collapsed and is wrinkly. Remove from heat and let cool for about 10 minutes, season with a bit of salt, and remove the flesh from the eggplant. If there is too much water, drain in a strainer. Set aside.Heat the oil over medium heat in the same saucepan used to cook the black-eyed peas. When hot, toss in the shallots and chilies and saut for 2 to 3 minutes. Now add the spices and stir for another minute, until fragrant. Add the tomato, cook for another few minutes, and then add the eggplant and black-eyed peas, and cook for another few minutes, stirring often.Pour a few tablespoons of water into the pan and add handfuls of chard at a time until wilted. Add more water as necessary. Add the lemon juice and salt to taste near the end of the cooking time. Remove from heat, cover, and let sit for a few minutes before serving.
Credit: Lisa's Vegetarian Kitchen