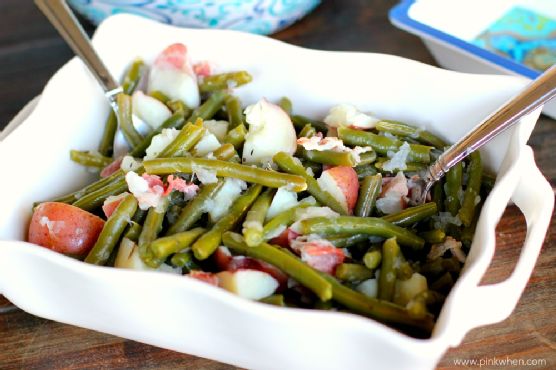 The recipe Southern Style Green Bean could satisfy your Southern craving in roughly 40 minutes. This recipe makes 2 servings with 524 calories, 10g of protein, and 36g of fat each. For $2.37 per serving, this recipe covers 17% of your daily requirements of vitamins and minerals. 1248 people have tried and liked this recipe. It is a good option if you're following a gluten free diet. Head to the store and pick up bacon, onion, parsley, and a few other things to make it today. Several people really liked this side dish. All things considered, we decided this recipe deserves a spoonacular score of 64%. This score is good. Similar recipes include Southern-Style Green Beans, Southern-Style Green Beans, and Real Southern Style Green Beans.
Southern Style Green Bean Instructions
In a medium pot on medium heat, melt butter and then place the bacon pieces into the pot. Allow to cook for a couple of minutes and then add in the onion, thyme, and parsley. Allow to cook for 10 minutes, stirring frequently.Add in the green beans and the quartered new potatoes and then cover with water and turn the heat up until they come to a boil. Once they start a small boil, turn the heat down to a simmer and cover. Cook for 20 minutes covered, stirring occasionally.
Credit: Jen West