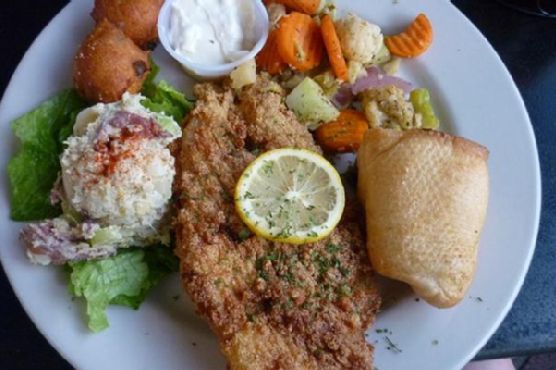 You can never have too many main course recipes, so give Southern Fried Catfish a try. Watching your figure? This dairy free and pescatarian recipe has 786 calories, 101g of protein, and 32g of fat per serving. For $8.78 per serving, this recipe covers 40% of your daily requirements of vitamins and minerals. A few people made this recipe, and 39 would say it hit the spot. This recipe is typical of Southern cuisine. Head to the store and pick up dressed catfish, salt, garlic powder, and a few other things to make it today. To use up the salt you could follow this main course with the Apple Turnovers Recipe as a dessert. All things considered, we decided this recipe deserves a spoonacular score of 94%. This score is spectacular. Similar recipes include Southern Fried Catfish, Southern Fried Catfish, and Southern Fried Catfish.
Southern Fried Catfish Instructions
Combine flour, cornmeal, garlic powder and salt. Coat catfish with mixture, shaking off excess. Fill deep pot or 12-inch skillet half full with oil. Heat to 350 degrees. Add catfish in a single layer, and fry until golden brown, 5 to 6 minutes, depending on size. Remove and drain on paper towels.
Credit: Foodista.com – The Cooking Encyclopedia Everyone Can Edit