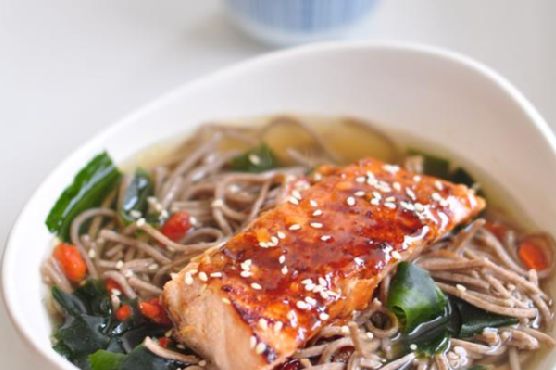 Forget going out to eat or ordering takeout every time you crave Japanese food. Try making Soba Noodle In Kombu Dashi With Teriyaki Salmon at home. This recipe serves 2. One portion of this dish contains around 26g of protein, 15g of fat, and a total of 300 calories. For $3.41 per serving, this recipe covers 19% of your daily requirements of vitamins and minerals. 1 person were impressed by this recipe. Head to the store and pick up teaspoon sesame seeds, tablespoon sake, water, and a few other things to make it today. It is brought to you by Foodista. Only a few people really liked this main course. It is a good option if you're following a dairy free and pescatarian diet. From preparation to the plate, this recipe takes approximately approximately 45 minutes. With a spoonacular score of 62%, this dish is solid. Try Salmon and Soba Noodle Salad, Soba Noodle Salad With Salmon And Asparagus, and Dashi With Soba Noodles for similar recipes.
Soba Noodle In Kombu Dashi With Teriyaki Salmon Instructions
To make kombu dashi, soak the dried kelp/seaweed in water for 2 hours. Put the kombu and water in a cooking pot. Put on medium heat. Turn off the heat when the water comes to a boil. Then, remove the kombu with a strainer. The remaining liquid is your kombu dashi. You can leave some kombu in the soup. Cook the soba noodles according to the packet. Drain and set aside. To make teriyaki salmon, marinate salmon filet/loin with sake, soya sauce, mirin, and sugar. Heat up a pan with oil. Put the skin side down and cook for 3 minutes or until crispy. Turn and cook the other side for another 2-3 minutes. Pour any remaining sauce. Remove from heat. Drizzle any remaining sauce from the frying pan. To serve the soba, heat up the broth. In a bowl, serve good portion of Soba noodles. Lardle good amount of kombu dashi over the noodles. Garnish with goji berries if desired. Place the teriyaki salmon on top of the noodles. Sprinkle with some toasted sesame seeds.
Credit: Foodista.com – The Cooking Encyclopedia Everyone Can Edit