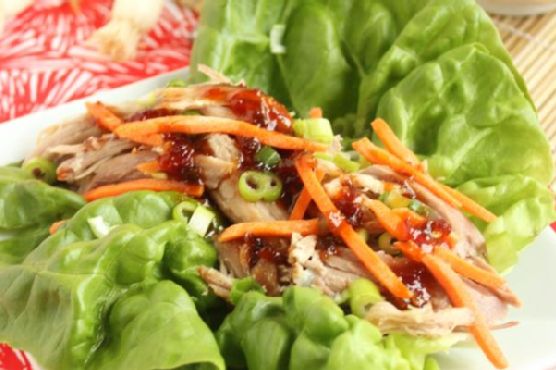 Slow Cooker Kahlua Pork with Sweet Chili Pineapple Sauce is a gluten free and dairy free beverage. This recipe makes 12 servings with 450 calories, 57g of protein, and 18g of fat each. For $2.43 per serving, this recipe covers 34% of your daily requirements of vitamins and minerals. 21 person were impressed by this recipe. It can be enjoyed any time, but it is especially good for The Super Bowl. Head to the store and pick up pork butt, pineapple juice, honey, and a few other things to make it today. This recipe is typical of American cuisine. From preparation to the plate, this recipe takes roughly 11 hour. All things considered, we decided this recipe deserves a spoonacular score of 87%. This score is super. Try Pineapple Black Bean Slow Cooker Turkey Chili, Slow-Cooker Pork and Pineapple on a Stick, and Slow-Cooker Pineapple-Pork Tacos for similar recipes.
Slow Cooker Kahlua Pork with Sweet Chili Pineapple Sauce Instructions
Place the pork, fat side up, in the slow cooker. Using a fork, pierce the roast all over and pour the liquid smoke over it to coat. Sprinkle the sea salt evenly over the roast and cover. Cook on low for 10 hours (the roast is done when the meat begins to fall apart when shredded with a fork.)
In a small saucepan, whisk together the pineapple juice, rice vinegar, honey, chili sauce and hoisin sauce. Bring the mixture to a boil and cook the sauce until reduced by half stirring with a heat resistant spatula frequently. Set aside.
When the roast is done, transfer to a cutting board and shred the meat using two forks. Return the shredded meat back to the slow cooker and serve immediately with the sauce.
Credit: Foodista.com – The Cooking Encyclopedia Everyone Can Edit