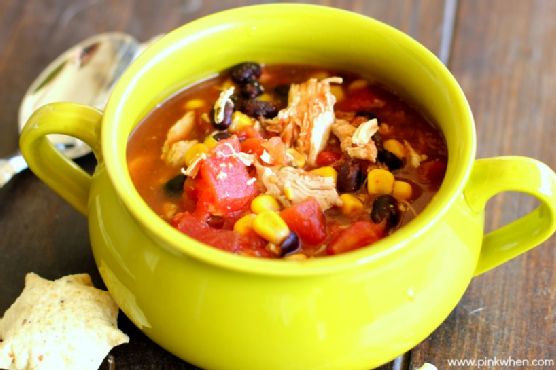 Slow Cooker Chicken Taco Soup might be just the main course you are searching for. This recipe serves 6 and costs $1.41 per serving. Watching your figure? This gluten free and dairy free recipe has 312 calories, 24g of protein, and 4g of fat per serving. This recipe from Pink When has 2179 fans. It can be enjoyed any time, but it is especially good for Autumn. If you have beans, tomatoes, chili beans, and a few other ingredients on hand, you can make it. From preparation to the plate, this recipe takes around 8 hours and 5 minutes. All things considered, we decided this recipe deserves a spoonacular score of 95%. This score is amazing. Try Slow Cooker Chicken Taco Soup, Slow Cooker Chicken Taco Soup, and Slow Cooker Beef or Chicken Taco Soup for similar recipes.
Slow Cooker Chicken Taco Soup Instructions
Once you have all of your ingredients added, allow it to cook all day for 8 hours on low. If you are wanting to make this a little faster, turn it on high and cook for 4 hours.When your Chicken Taco Soup is ready to serve, add in some crushed tortilla shells, shredded cheddar cheese, and a little sour cream.
Credit: Jen West