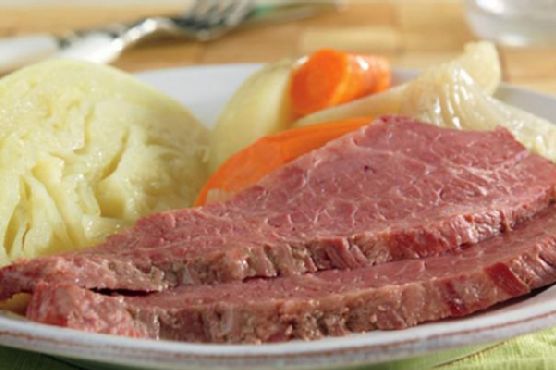 Slow Cooked Corned Beef and Cabbage could be just the gluten free and dairy free recipe you've been looking for. This recipe makes 10 servings with 385 calories, 25g of protein, and 21g of fat each. For $2.17 per serving, this recipe covers 32% of your daily requirements of vitamins and minerals. A mixture of bay leaves, onions, potatoes, and a handful of other ingredients are all it takes to make this recipe so scrumptious. A few people made this recipe, and 33 would say it hit the spot. It works well as a budget friendly main course. From preparation to the plate, this recipe takes approximately 8 hours and 20 minutes. It will be a hit at your st. patrick day event. This recipe is typical of European cuisine. It is brought to you by Foodista. Taking all factors into account, this recipe earns a spoonacular score of 99%, which is excellent. Slow Cooked Corned Beef and Cabbage, Slow-Cooked Corned Beef, and Slow-Cooked Corned Beef Dinner are very similar to this recipe.
Slow Cooked Corned Beef and Cabbage Instructions
Stir the broth and vinegar into a 6-quart slow cooker. Add the onions, potatoes, carrots, beef and cabbage. Submerge the Bouquet Garni (last four ingredients) in the broth mixture.
Cover and cook on LOW for 8 to 9 hours or until the beef is fork-tender. Remove the Bouquet Garni.
Credit: Foodista.com – The Cooking Encyclopedia Everyone Can Edit