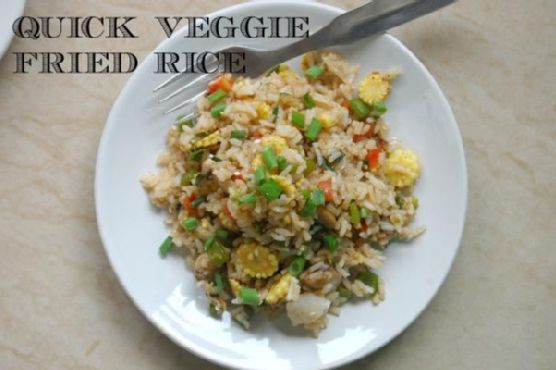 Skinny Veggie Fried Rice takes around around 45 minutes from beginning to end. This side dish has 175 calories, 5g of protein, and 9g of fat per serving. This recipe serves 2. For $1.4 per serving, this recipe covers 18% of your daily requirements of vitamins and minerals. A mixture of , salt, baby corns, and a handful of other ingredients are all it takes to make this recipe so tasty. It is brought to you by Foodista. Only a few people really liked this Chinese dish. This recipe is liked by 8 foodies and cooks. It is a good option if you're following a gluten free, dairy free, lacto ovo vegetarian, and vegan diet. Overall, this recipe earns a great spoonacular score of 92%. Try Skinny Chicken Fried Rice, Skinny Garlic Fried Rice, and Veggie Fried Rice for similar recipes.
Skinny Veggie Fried Rice Instructions
Heat a wok or skillet on med-high and add 1 tsp oil. To it add minced ginger and 1 tsp minced garlic. Saute until fragrant but not burnt. Add mushroom pieces. Cook until tender for 5-6 minutes. Keep mushrooms along with any juices aside in a bowl. Heat wok again add 1 tsp oil. To it add remaining garlic. Saute until fragrant and add all the vegetables. Stir it all together on high flame. Add salt, black pepper and splash of soy sauce. Toss to coat and let them cook for few more minutes until they get tender but not soft. You want veggies to be cooked but with a little crunch. Now add the cold already cooked rice and stir it so it all gets mixed together. Do with a gentle hand. Let the rice get warm at med- high flame.Add the remaining 1 tsp oil along with salt, black pepper and soy sauce. Add the mushrooms and tofu(if using). Mix it all together. Toss and taste. Garnish with chopped green parts of green onions and sesame seeds.
Credit: Foodista.com – The Cooking Encyclopedia Everyone Can Edit