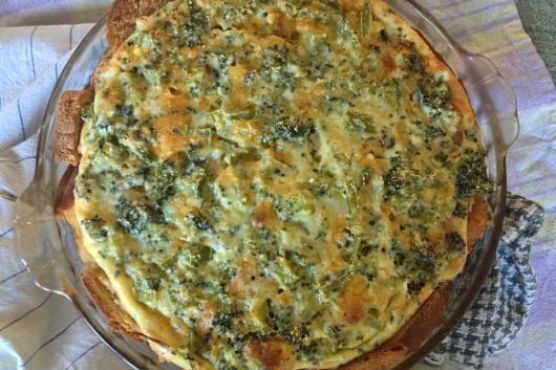 The recipe Simple Broccoli Cheddar Quiche can be made in about 1 hour and 15 minutes. For $1.17 per serving, you get a main course that serves 4. One portion of this dish contains about 24g of protein, 26g of fat, and a total of 440 calories. This recipe is typical of Mediterranean cuisine. 1 person found this recipe to be scrumptious and satisfying. This recipe from Foodista requires butter, shredded cheddar cheese, parmesan cheese, and milk. Taking all factors into account, this recipe earns a spoonacular score of 86%, which is great. Similar recipes are The Best Broccoli Cheddar Quiche, Broccoli and Cheddar Quiche, and Broccoli and Cheddar Quiche.
Simple Broccoli Cheddar Quiche Instructions
Preheat oven to 350 degrees F.
Butter a 9 inch pie plate.
Press the bread into the plate and bake it until it becomes slightly golden, approximately, 10-11 minutes.
Remove from oven and let cool slightly before adding the quiche batter.
For the quiche batter, place the cooked chopped broccoli, cheddar cheese, Romano cheese, salt and pepper, and butter in a large bowl.
Beat the milk with the eggs and add to the bowl.
Toss the mixture and pour into the baking dish.
Top the quiche with a little more grated Romano cheese.
Bake 35-40 minutes. Let cool for at least 20 -25 minutes before serving.
Credit: Foodista.com – The Cooking Encyclopedia Everyone Can Edit