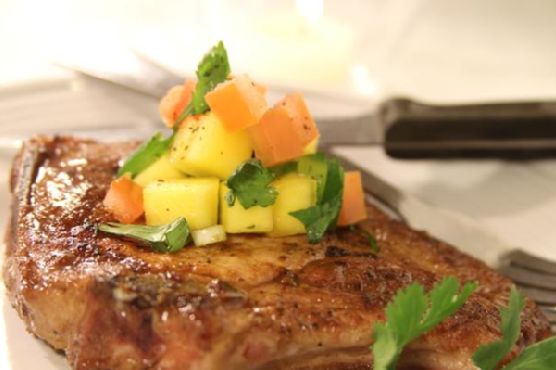 Seared Pork Chops W/ Mango Salsa might be just the Mexican recipe you are searching for. One serving contains 407 calories, 39g of protein, and 20g of fat. For $3.31 per serving, this recipe covers 34% of your daily requirements of vitamins and minerals. It is a good option if you're following a gluten free, dairy free, and whole 30 diet. This recipe is liked by 2 foodies and cooks. A mixture of onion powder, garlic powder, pork chops, and a handful of other ingredients are all it takes to make this recipe so yummy. It works well as a main course. From preparation to the plate, this recipe takes approximately 45 minutes. All things considered, we decided this recipe deserves a spoonacular score of 81%. This score is amazing. Similar recipes include Pan Seared Pork Chops with Mango Chutney, Pork Chops with Mango Salsa, and Pork Chops With Mango Salsa.
Seared Pork Chops with Mango Salsa Instructions
In a bowl thoroughly mix dry rub ingredients (cumin, mustard powder, cayenne, garlic powder, onion powder, 1 tablespoon salt, 2 teaspoons black pepper).
Dust and massage dry rub into pork chops, rest in fridge for about 10min
Prep mango, bell pepper, onion, scallions, tomato, and cilantro set aside.
Heat pan w/ oil to med high, sear pork chops. 2-3 minutes on each side.
Let pork chops rest 5-8 minutes before serving.
Take salsa bowl, add juice of a whole lime, add salt and pepper to taste.
Mix thoroughly
Place pork chop on plate and top with mango salsa.
Credit: Foodista.com – The Cooking Encyclopedia Everyone Can Edit