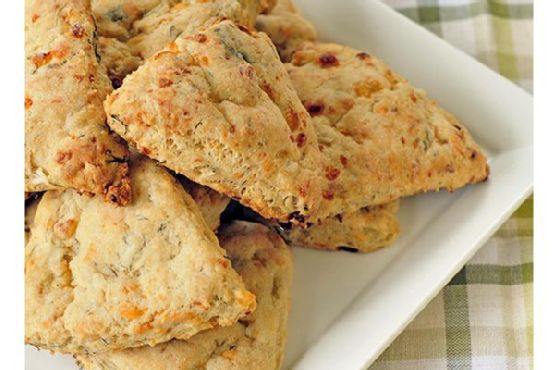 The recipe Savory Cheese Dill Scones could satisfy your Scottish craving in roughly 45 minutes. One serving contains 215 calories, 6g of protein, and 11g of fat. This recipe serves 12 and costs 30 cents per serving. It works well as an inexpensive morn meal. 40 people have tried and liked this recipe. A mixture of cottage cheese, a pinch of baking soda, pepper, and a handful of other ingredients are all it takes to make this recipe so tasty. It is a good option if you're following a vegetarian diet. All things considered, we decided this recipe deserves a spoonacular score of 28%. This score is not so super. Try Savory Dill and Caraway Scones, Cheese Dill Scones, and Savory Three Cheese Cream Cheese Pumpkin Scones for similar recipes.
Savory Cheese Dill Scones Instructions
Preheat oven to 375F with the rack in middle position.
Make the Scone Mix.
Using a Food Processor fitted with a steel knife blade: Place half the butter and half the dry ingredients in the bowl. Pulse until the butter is reduced to pea-sized pieces, with dough still dry. Transfer first half of the mix into a large bowl. Repeat process with the other half of the ingredients and add to the large bowl.
By hand: Place all the ingredients in a large bowl and use a pastry cutter to incorporate the butter into the dough. Cut by pressing on butter, then gathering flour onto it in two quick strokes. Cut until butter slices become pea-sized.
Dont over process or mix. Dough will be dry. Break large lumps of butter by hand, and toss dry dough with your fingers.
Blend the cheeses, dill, shallot and pepper with the Scone Mix using a wooden spoon. Drizzle the buttermilk over the dough and drop the cottage cheese in the middle, and stir until mixed. Add more buttermilk if dough is too dry to hold together.
Place dough on a lightly floured surface and divide into two. Form 2 discs and flatten each to a thickness of about 1-1/2 inches, cut into 6 wedges for a total of 12. Arrange an inch apart on a cookie sheet.
Bake for 15 minutes, rotate the pan, and bake another 10 to 15 minutes, until scones are light brown on top and darker at the bottom. Bread should no longer be soft and doughy in the center. Bake in 2 batches if scones dont fit in one cookie sheet.
Serve warm or cool in a wire rack before wrapping in foil or plastic wrap/bag. Freshly baked scones can be kept at room temperature for up to 2 days, and in the refrigerator for a week.
Credit: Foodista.com – The Cooking Encyclopedia Everyone Can Edit