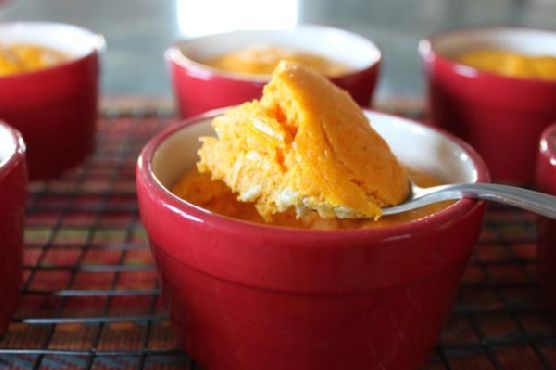 Savory Carrot Souffle might be just the side dish you are searching for. For 80 cents per serving, this recipe covers 14% of your daily requirements of vitamins and minerals. One serving contains 330 calories, 12g of protein, and 23g of fat. 2 people have tried and liked this recipe. Head to the store and pick up milk, carrots, nutmeg, and a few other things to make it today. From preparation to the plate, this recipe takes roughly 45 minutes. All things considered, we decided this recipe deserves a spoonacular score of 41%. This score is solid. Similar recipes include Savory Potato Soufflé, Thanksgiving Savory Bacon Butternut Squash Souffle, and Carrot Souffle.
Savory Carrot Souffle Instructions
Start by cooking the carrots in salted boiling water until tender. Once tender drain all the water and pulse/blend the carrots with 1/2 of the milk till smooth. Set aside.
In a small sauce pot start cooking the rest of the milk, heavy cream, flour, salt, butter, parmesan cheese, and nutmeg. Stir till thick consistency. Set aside to cool.
Start by preheating oven to 350 degrees Farenheit. Whisk/beat the egg whites in a bowl till stiff peak. Set aside.
Mix the carrot puree and white sauce (bechamel) together and add in the yolks one at a time, then fold in the stiff egg whites. Pour mixture in pre-greased ramekins and set in a bain-marie (water bath). Bake for 1 hour.
Credit: Foodista.com – The Cooking Encyclopedia Everyone Can Edit