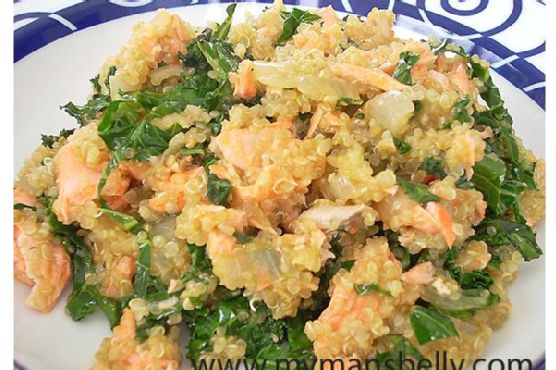 Salmon Quinoa Risotto is a gluten free, dairy free, and pescatarian recipe with 4 servings. One portion of this dish contains approximately 26g of protein, 19g of fat, and a total of 439 calories. For $3.55 per serving, this recipe covers 42% of your daily requirements of vitamins and minerals. This recipe from Foodista requires quinoa, onion, vegetable stock, and garlic cloves. 3 people found this recipe to be tasty and satisfying. From preparation to the plate, this recipe takes about about 45 minutes. Not a lot of people really liked this Mediterranean dish. It works well as a main course. Taking all factors into account, this recipe earns a spoonacular score of 95%, which is spectacular. Try Quinoa Risotto With Salmon And Kale, Quinoa Risotto, and Quinoa Risotto for similar recipes.
Salmon Quinoa Risotto Instructions
In a 4 quart saucepan, heat 2 tablespoons of olive oil over medium high heat. When oil is shimmering, add diced onion. Saute onion until transparent. Add quinoa to onion mixture and stir, to toast quinoa, for 2 minutes. Add 1 cup of vegetable stock to quinoa and onions. Stir until stock is absorbed. Once stock is absorbed, add 1 cup of stock. Continue stirring until stock is absorbed. Add remaining stock in 1/2 cup intervals, stirring until all stock is absorbed. Remove from heat. While preparing the onion quinoa mixture, heat 1 tablespoon of oil in a saute pan with chopped garlic (over medium high heat). Once garlic is sizzling, add chopped kale to the pan. Turn kale to coat with oil and garlic. Turn kale mixture until fragrant (approximately 2 minutes). Remove kale mixture from heat. Once quinoa is complete, add kale and salmon. Stir to combine. Add salt and pepper to taste.
Credit: Foodista.com – The Cooking Encyclopedia Everyone Can Edit