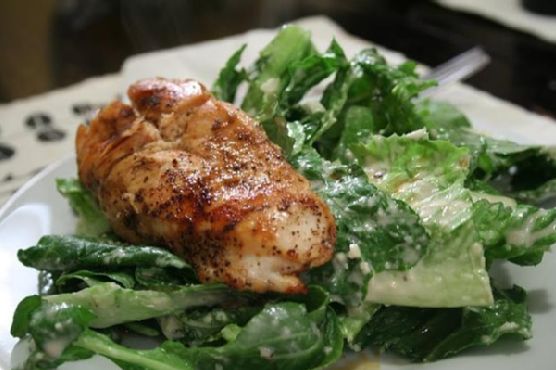 Salmon Caesar Salad might be just the main course you are searching for. This gluten free, primal, fodmap friendly, and pescatarian recipe serves 2 and costs $3.01 per serving. One serving contains 393 calories, 27g of protein, and 29g of fat. Only a few people made this recipe, and 7 would say it hit the spot. A mixture of caesar dressing, romaine, slivered almonds, and a handful of other ingredients are all it takes to make this recipe so delicious. To use up the salt you could follow this main course with the Apple Turnovers Recipe as a dessert. From preparation to the plate, this recipe takes roughly 45 minutes. This recipe is typical of American cuisine. All things considered, we decided this recipe deserves a spoonacular score of 92%. This score is excellent. Try Salmon Caesar Salad, Salmon Caesar Salad, and Salmon Caesar Salad for similar recipes.
Salmon Caesar Salad Instructions
Directions: Heat up a skillet/frying pan and sir the Salmon in the coconut oil/olive oil (don't forget to add the salt and paprika to it) until very lightly browned on each side (i like my salmon slightly undercooked-its up to you if you want it more done). Top with freshly squeezed lemon juice and let it sit in the frying pan for about 1 minute. In a Large bowl, mix the romaine lettuce with the Caesar salad dressing and dump it out into a large plate, top off with Asiago/Parmesan cheese and you can also sprinkle the toasted almonds on now. Place the Salmon (sliced) on top. You can sprinkle it with some more fresh lemon juice:) and black pepper!
Credit: Foodista.com – The Cooking Encyclopedia Everyone Can Edit