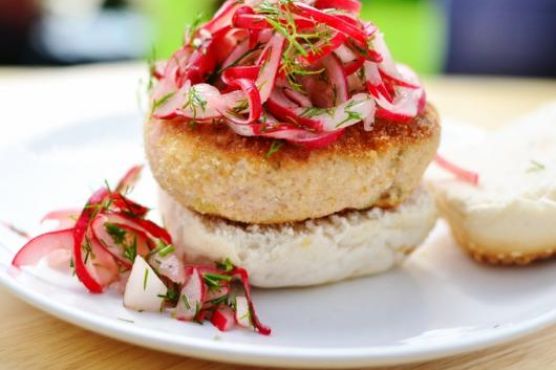 Salmon Amaranth Burgers with Radish Slaw takes around 26 minutes from beginning to end. This recipe makes 6 servings with 307 calories, 23g of protein, and 8g of fat each. For $3.1 per serving, this recipe covers 21% of your daily requirements of vitamins and minerals. It is a pretty expensive recipe for fans of American food. 1 person has tried and liked this recipe. It is a good option if you're following a dairy free and pescatarian diet. It will be a hit at your The Fourth Of July event. This recipe from Foodista requires salmon filet, cooked amaranth, dill, and breadcrumbs. It works well as a main course. With a spoonacular score of 75%, this dish is pretty good. Similar recipes include Salmon Tostadas with Zucchini-Radish Slaw, Salmon Burgers with Tangy Slaw, and Salmon Burgers with Caesar Slaw.
Salmon Amaranth Burgers with Radish Slaw Instructions
If you are using frozen salmon filets leave them in a strainer to get rid of excess water and squeeze any remaining water out.
Chop up the fish roughly and pulse in a blender to obtain a smooth mixture.
Season, add the amaranth, horseradish, breadcrumbs and stir well.
Fold in the capers.
Form thick (about 2 cm) burgers and coat in the remaining breadcrumbs.
Heat up about 2 tablespoons of oil and fry the burgers for 3 minutes on each side on a low/medium heat.
To make the radish slaw, grate, spiralize or finely slice the radishes, add the dill, lemon juice, oil and seasoning, and stir well to combine.
Serve the burgers with the radish slaw in your favorite burger buns.
Credit: Foodista.com – The Cooking Encyclopedia Everyone Can Edit