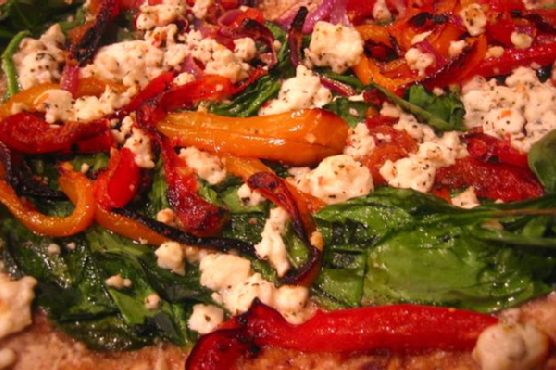 Roasted Peppers, Spinach & Feta Pizza might be just the main course you are searching for. This recipe makes 1 servings with 382 calories, 18g of protein, and 17g of fat each. For $3.75 per serving, this recipe covers 33% of your daily requirements of vitamins and minerals. This recipe is typical of Mediterranean cuisine. If you have feta cheese, tomato, onion, and a few other ingredients on hand, you can make it. To use up the tomato you could follow this main course with the Pink Peony Popcorn Balls as a dessert. 1 person has tried and liked this recipe. It is a good option if you're following a vegetarian diet. From preparation to the plate, this recipe takes approximately 45 minutes. All things considered, we decided this recipe deserves a spoonacular score of 84%. This score is great. Try Spinach and Feta Chicken Burgers (aka Spanakopita Burgers) with Grilled Halloumi, Roasted Red Peppers and a Spinach and Feta Sauce, Green Olive Pesto Pizza with Feta Stuffed Crust, Roasted Red Peppers and Balsamic Drizzle, and Roasted Feta with Olives and Red Peppers for similar recipes.
Roasted Peppers, Spinach & Feta Pizza Instructions
Toss peppers, tomatoes, onions and garlic with olive oil and spread on a baking sheet. Roast at 400 degrees for 20 minutes.
Place flatbread on baking sheet. Layer peppers, tomatoes, onions and spinach on flatbread. Sprinkle with feta. Bake for 10 minutes at 400 degrees.
Turn oven to broil and cook on low for 2-3 minutes or until flatbread edges begin to brown.
Credit: Foodista.com – The Cooking Encyclopedia Everyone Can Edit