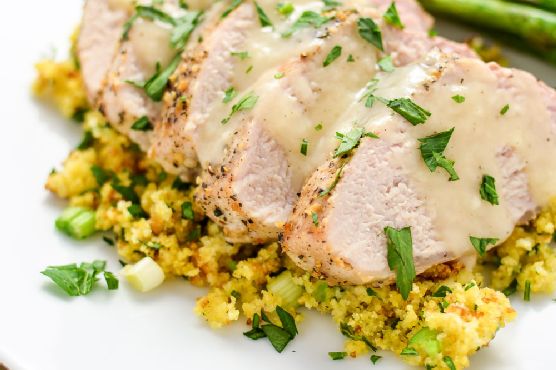 Roasted Lemon Pepper Pork Tenderloin with Cornbread Stuffing might be just the Southern recipe you are searching for. This recipe makes 4 servings with 412 calories, 41g of protein, and 16g of fat each. For $2.23 per serving, this recipe covers 33% of your daily requirements of vitamins and minerals. Thanksgiving will be even more special with this recipe. 65 people have made this recipe and would make it again. A few people really liked this main course. From preparation to the plate, this recipe takes around 1 hour and 30 minutes. If you have salt and pepper, chicken broth, pork tenderloin, and a few other ingredients on hand, you can make it. To use up the salt and pepper you could follow this main course with the Dr. Pepper Cake with Flour Cooked Frosting as a dessert. All things considered, we decided this recipe deserves a spoonacular score of 90%. This score is tremendous. Try Roasted Pork Tenderloin with Sage Cornbread Crust, Grilled Lemon-Pepper Pork Tenderloin, and Pork Tenderloin Stuffed with Spinach, Roasted Bell Pepper, Mushroom, and Parmesan for similar recipes.
Roasted Lemon Pepper Pork Tenderloin with Cornbread Stuffing Instructions
Preheat your oven to 375 degrees F. Line a large baking sheet with foil and spray it with a nonstick spray. Season the pork tenderloin generously with the lemon pepper seasoning, rubbing it all over. Place the pork tenderloin on the prepared baking sheet and spray the pork with a nonstick spray. Place it in the oven and roast for about 45 minutes to 1 hour or until done to your liking. Use an instant read thermometer for desired level of doneness.
While the pork is roasting, prepare your crumbled cornbread. To a large bowl, add the cornbread, egg, jalapeno, parsley, green onions, salt and black pepper to taste, and milk. Stir to combine and pour it into an oven-safe baking dish that has been sprayed with a nonstick spray. Place it in the oven with pork and bake for 20 minutes or until slightly brown on top. Remove from oven and cover with foil to keep warm while you prepare the rest of your meal.
When the pork has finished roasting, remove it from the oven and pour the juices (if there are any) into a large nonstick skillet set over medium heat. Cover the pork tenderloin with a foil tent and allow it to rest for 10 minutes. Add the butter to the pan with the juices. If the pork has not released any juices, add an extra tablespoon or two of butter. Melt the butter and then whisk in the flour. Let cook for a minute or until golden brown, then whisk in the chicken broth and continue whisking until the sauce is a thick gravy. Season generously with salt and black pepper to taste. Remove from heat.
Slice the pork and set it over a bed of cornbread stuffing.
Serve with your favorite veggies and enjoy!
Credit: Jen West