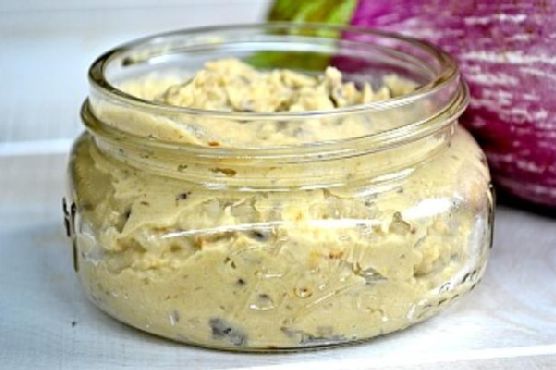 The recipe Roasted Eggplant Hummus is ready in approximately 45 minutes and is definitely an awesome gluten free and vegan option for lovers of middl eastern food. For $1.11 per serving, this recipe covers 13% of your daily requirements of vitamins and minerals. One serving contains 232 calories, 7g of protein, and 14g of fat. Not a lot of people really liked this hor d'oeuvre. This recipe from Foodista has 1 fans. Head to the store and pick up garlic clove, lemon juice, extra virgin olive oil, and a few other things to make it today. All things considered, we decided this recipe deserves a spoonacular score of 75%. This score is solid. Try Roasted eggplant hummus, White Bean and Roasted Eggplant Hummus, and Eggplant Hummus for similar recipes.
Roasted Eggplant Hummus Instructions
Preheat oven to 425 degrees.
On a large baking sheet toss eggplant, 2 tablespoons olive oil, salt and pepper and spread in a single layer.
Roast for 18-20 minutes.
Remove from oven and set aside.
In food processor combine, chickpeas, tahini, garlic, lemon juice, 2 tablespoons olive oil and pulse 3 or 4 times.
Add eggplant and blend on highest level until desired consistency.
Store in air tight containers in the refrigerator.
Credit: Foodista.com – The Cooking Encyclopedia Everyone Can Edit