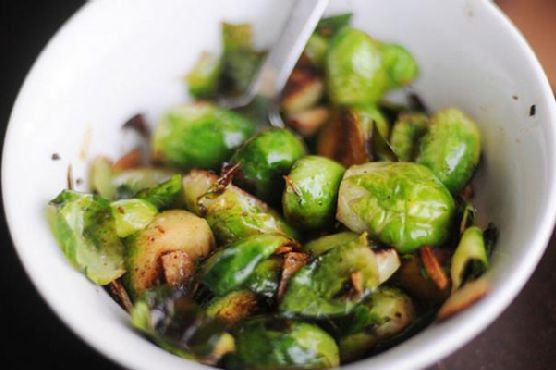 Need a caveman, gluten free, primal, and whole 30 side dish? Roasted Brussels Sprouts With Garlic could be a spectacular recipe to try. This recipe makes 4 servings with 232 calories, 6g of protein, and 18g of fat each. For $1.39 per serving, this recipe covers 19% of your daily requirements of vitamins and minerals. This recipe is typical of Mediterranean cuisine. It is perfect for Christmas. 1 person has made this recipe and would make it again. A mixture of garlic, kosher salt and pepper, extra virgin olive oil, and a handful of other ingredients are all it takes to make this recipe so yummy. From preparation to the plate, this recipe takes roughly 45 minutes. All things considered, we decided this recipe deserves a spoonacular score of 91%. This score is tremendous. Try Roasted Brussels Sprouts with Ham and Garlic, Roasted Garlic Brussels Sprouts, and Garlic Roasted Brussels Sprouts for similar recipes.
Roasted Brussels Sprouts With Garlic Instructions
Heat oven to 450 degrees. Trim bottom of Brussels sprouts and remove any undesirable outer leaves. Slice each sprout in half from top to bottom.
Heat oil in a large heavy skillet over medium-high heat; put sprouts cut side down in one layer in pan. Add garlic, and sprinkle with salt and pepper.
Cook, undisturbed, until sprouts begin to brown on bottom, and transfer to oven. Cook, shaking pan occasionally, until sprouts are quite brown and tender, about 1/2 hour.
Taste, and adjust seasoning if necessary. Stir in balsamic vinegar, and serve hot or warm.
Credit: Foodista.com – The Cooking Encyclopedia Everyone Can Edit