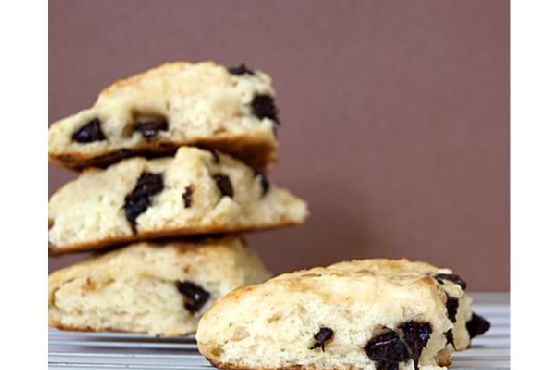 Ricotta Chocolate Chips Scones requires approximately about 45 minutes from start to finish. For 35 cents per serving, you get a breakfast that serves 4. One serving contains 261 calories, 6g of protein, and 9g of fat. 1 person found this recipe to be tasty and satisfying. If you have buttermilk, butter, tsp vanillan extract, and a few other ingredients on hand, you can make it. Not a lot of people really liked this European dish. It is brought to you by Foodista. Overall, this recipe earns a rather bad spoonacular score of 14%. Users who liked this recipe also liked Pumpkin Scones with Chocolate Chips, Strawberry Ricotta Scones, and Lemon-blueberry Ricotta Scones.
Ricotta Chocolate Chips Scones Instructions
Preheat the oven to 400F degress. Line a baking sheet with parchment paper. In a bowl whisk together the flour, the sugar, the baking powder, the baking soda and the salt. Cut in the ricotta and butter and lightly work with your fingers until the mixture resembles coarse sand. Gently stir in the buttermilk, the vanilla extract and the chocolate chips. Turn the dough out onto a floured surface. Knead gently for 1 2 minutes, the dough should hold together but be a bit crumbly. Place the dough on the prepared baking sheet lined with parchment paper. Pat the dough into a 3/4-inch-thick circle. Cut the dough into 4 wedges without separating them. Use a pastry brush to brush the surface of the dough with milk and then sprinkle with brown sugar. Bake for about 15 minutes or until lightly browned. Let them cool on a cooling rack.
Credit: Foodista.com – The Cooking Encyclopedia Everyone Can Edit